Battling leukemia, Camber's resilience shines as bright as her smile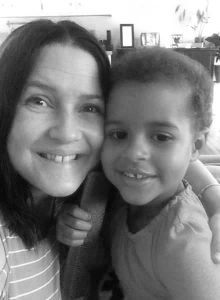 Meet Camber! Summer of 2016 started like any other for Camber and her family—playing outside morning, day and night, as many kids do. As the summer went on, Camber's mom Morgann started noticing some changes. Camber would come into the house and was asking to take more and more naps. She would curl up on the floor and sleep for hours at a time. Morgann knew that something was not right and decided to take Camber to her pediatrician.
Camber underwent numerous tests to determine the cause of strange bruising and excessive fatigue. After a few hours of tests, Camber's results turned up positive for leukemia.
They were referred to the Cancer and Blood Disorders Clinic at Children's Minnesota, where Camber was diagnosed with acute lymphoblastic leukemia (ALL), a type of cancer that involves the white blood cells of the bone marrow. Their Children's journey would include hospital stays, a handful of trips to the emergency room and chemo-induced mucositis, a condition resulting in painful inflammation and ulceration which developed in her throat and stomach.
Camber began long-term maintenance in June of 2017,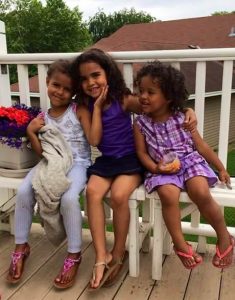 but that didn't come without complications. Camber began metabolizing her daily oral chemo incorrectly, causing skin to peel off her hands and feet, irritation in her stomach and losing her hair for the third time.
"Losing hair isn't something that usually happens during maintenance," says Camber's mom, Morgann. "As usual, she took it in stride and let Dad shave her head again – giggling at how much it tickled!"
In January of 2018, Camber and her family traveled to Florida for her Make-A-Wish, which was to ride on a horse along the ocean.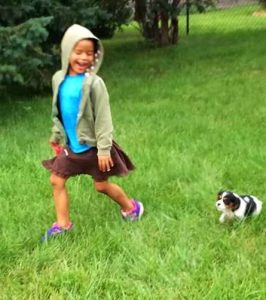 Camber got to ride a beautiful white horse named BamBam, stay at the Ritz Carlton and even had her own celebration complete with a decorated party room with a dance floor, Disney music, games and toys for her sisters and specially prepared food from the Executive Chef.
Camber is also the big sister to a new puppy named Charlotte.
"She loves to run around the yard and let Charlotte chase her," Morgann says. "Her laughter is beautiful."
Shine Bright for Kids in September and help support kids like Camber through the Cancer Kid Fund. At Children's, we believe in providing the little things and big things that help make journeys more comfortable. The Cancer Kids Fund provides families with resources like parking and meal vouchers and even assistance paying for rent and utilities for those who qualify. Help make cancer treatment more manageable and participate today! 
Kristin Tesmer