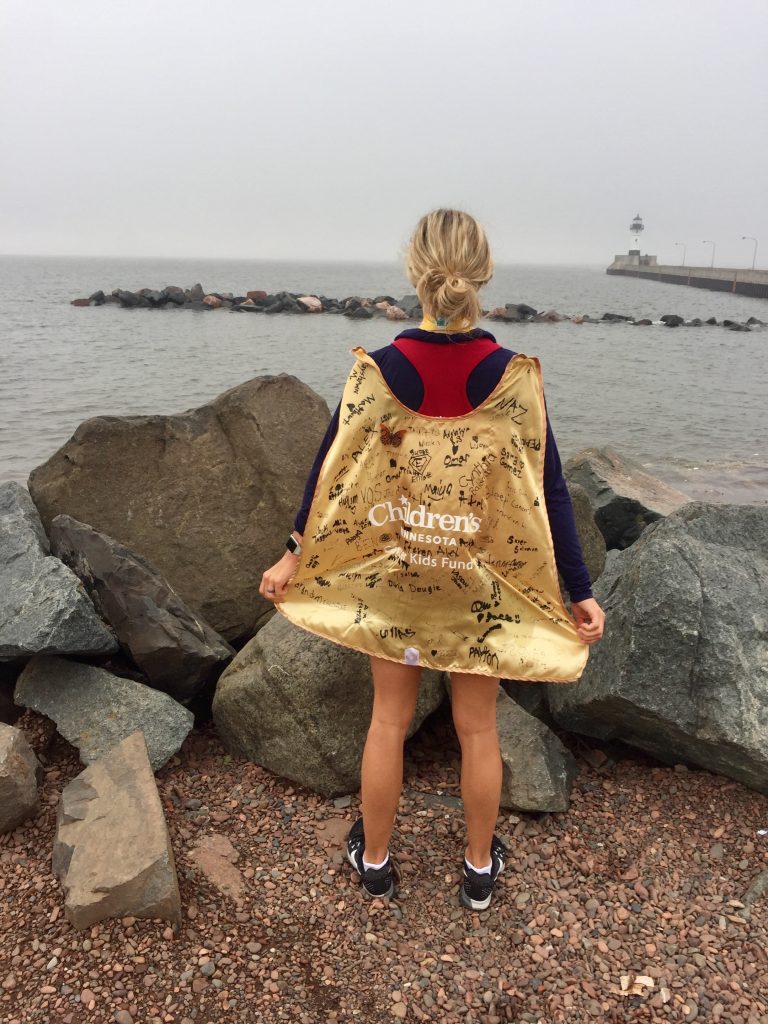 Children's RN helps fellow runner at Garry Bjorklund Half Marathon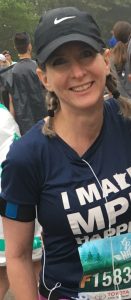 Angie Andresen had a goal. To finish the Garry Bjorklund Half Marathon in under 2 hours. An average pace of 9 minutes and 10 seconds, per mile.
In distance running, as it often happens, she hit a wall. The point in a race when an athlete feels like she's running out of steam. Angie's goal seemed less and less attainable as the miles felt harder and harder.
She needed a boost – and found a beacon. Just ahead, she spotted a runner wearing a gold cape. Written on it were names, messages and signs from kids. Signs that Angie needed to keep moving.
Almost 19 years ago, Angie's son, Alexander, died when he was six days old. He had been transferred to Children's Minnesota after being diagnosed with a serious infection. Alex's twin brother, Max, was then transferred to Children's, where he stayed for another month before heading home.
Children's has since had a special place in Angie's heart, so the gold Children's cape caught her eye.
Another special symbol for Angie and her family is the monarch butterfly, which – whenever they see one – is a reminder of Alex's short time here on earth.
On that gold cape, worn by Children's hematology and oncology nurse, Erin Bevers, was a monarch butterfly pin, and written next to the pin was the name Alex.
It was just the sign – and boost – Angie needed to keep moving in the direction of her goal. She crossed the finish line in 1 hour and 58 minutes – in part, thanks to Erin and her cape, which gave Angie the wings to fly.
Erin ran on behalf of Children's Team Superstars. She joined 45 other athletes – employees, patient families and other community members – who collectively raised nearly $82,000 for vital Children's programs.
Stefanie Kula