Celebrating CV Patients: Families who give from the heart
February is American Heart Month! This month we are celebrating some of our amazing cardiovascular (CV) patients and families who have a special place in our hearts. To kick off, we are delighted to shine a light on three patient families who have given back to Children's and the community.
The Parker Family: Mom, Courtney, volunteers with Children's Minnesota's Families as Partners program. She shares her son Elijah's Children's experience with different groups and represents patient families on both the Guideline Governance Council and Cardiovascular Experience Team. Together with her husband Ben, they organized a drive to benefit the CV program.
The Denniston Family: David organized the Gentleman's Cup golf tournament. He created this community fundraiser to raise awareness and support the Fetal Cardiology program while his son Monty is receiving care at Children's.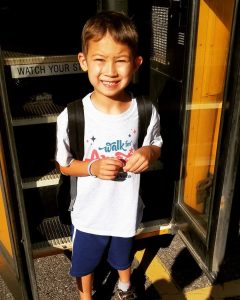 The Thomas Family: Robyn and Aaron are Team Captains of the largest and top fundraising team at Walk for Amazing! They walked for their son Asher, who spent his first days of life at Children's and underwent open heart surgery to have a pacemaker implanted.
Each one of these families has been connected with the Children's cardiovascular program since before their sons were born. Grateful patient families like the Parkers, Dennistons and Thomases are an important part of our culture of philanthropy at Children's, and their giving comes in all shapes and sizes. We are so grateful to them for their work, and we celebrate them this and every month!
To learn more about the cardiovascular program at Children's Minnesota check out the CV section of the website.
Stefanie Kula