Child Life Services uses play to support patients and families
From the desk of Rachel Calvert, MS, CCLS
My best guess is that your current understanding of what "child life" is directly correlates with an experience you've had with a child life professional either here at Children's Minnesota or elsewhere.
Let me share a few common introductions we are often given:
"Child life has the BEST job! They get to play all day with kids and put smiles on their faces. They bring in toys and activities so that kids don't get bored."
"Our child life specialist will bring in her iPad so that (patient's name) won't even feel this procedure."
"Our child life specialists are magic. They are able to explain procedures in ways that kids can understand so they can cope with difficult things here at the hospital."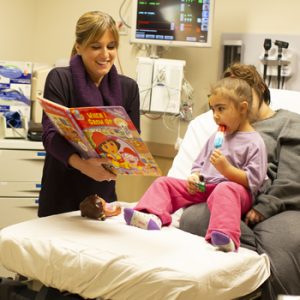 I personally love these statements as they speak to the value that child life has brought to individual patient and staff experiences, even if full understanding of what has happened in these scenarios isn't there. Here is some information to explain in more detail what child life brings to the hospital experience.
Child Life Associates (CLA) focus on children's need for play to support normal growth and development on inpatient units, in the Sibling Play Area and also in the Child Life Zone (with our child life zone coordinator). CLAs provide an outlet for creative activities at bedside and in the playrooms. These opportunities promote socialization and healing throughout a child's healthcare experience. Significant literature support backs the importance of this cognitive and social stimulation in early childhood through adolescence. At the same time, we also see these activities often highlighted as the "above and beyond" on patient satisfaction surveys.
Certified Child Life Specialists (CCLS) are trained in child development to promote effective coping through play, preparation, education, and self-expressive activities. Child Life Specialists use a professional assessment to determine which clinical interventions are best for the individual child and family in a given healthcare experience, as well as help patients and families plan for upcoming transitions and future medical encounters.
Child Life professionals teach kids and families coping strategies and non-pharmacological pain reduction techniques such as relaxation. When a child receives a diagnosis the specialists use age appropriate language for the child's developmental age to explain what it all means and what procedures will be happening. They offer support during procedures to help distract children from the pain and stress. They also offer support for the whole family including help with end-of-life planning and grief. Some of this work centers on legacy building, family memory making and emotionally supporting patients, siblings and family members during this time.
Our Healing Arts Coordinator is a liaison between Children's and the community. She brings in artists from various creative arts backgrounds to bedside and group settings to promote healing through art. The Healing Arts Coordinator also serves as a creative resource for activity planning throughout the organization.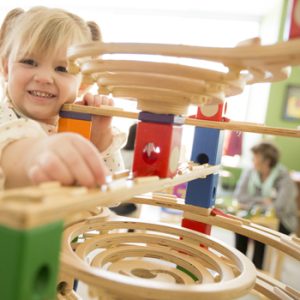 Child Life operates a couple of our patient and family spaces. The Sibling Play Area is a concrete demonstration of Children's dedication to families as a whole. This space allows siblings, patients and families to interact together as a family, offers a child care option for families in need of that service and provides specific attention to the needs of siblings of hospitalized or chronically ill patients. The Child Life Zone is a therapeutic space where innovative programming is designed to promote a sense of choice, control, mastery, self-expression, and positive interactions for patients and family members. Many other support groups or programs are facilitated by child life team members, often in partnership with other disciplines.
Laura Stokes