Anna Youngerman honored as one of 2019 Women in Business for leadership
Anna Youngerman, Chief Value Officer for Children's Minnesota and President of Children's Health Network, has been named an honoree of the Minneapolis/St. Paul Business Journal's 2019 Women in Business award. Anna is among 50 women recognized for their professional achievements and contributions to the Twin Cities community.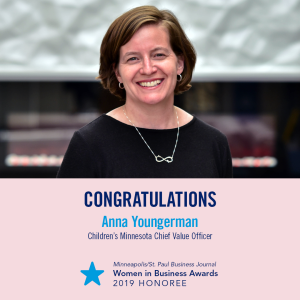 Anna is recognized for leadership throughout her career including her work at Children's to advance new and responsive ways for Children's to be an effective partner to children, families, and the broader community. This includes recognition of her role in launching the Community Connect program and advancing health equity as a strategic priority.
You can see the list of more Women in Business 2019 winners here. Congratulations Anna!
Laura Stokes