National Playground Safety Week: Injury prevention
National Playground Safety Week is April 22-26. This week is not only centered around preventing injuries while on the playground but also raising awareness about how to keep playgrounds safe.
Children's Minnesota has one of the busiest pediatric emergency programs in the U.S., with about 90,000 visits each year. We love kids here at Children's, but we'd rather see them safe at home and on the playground.
The National Program for Playground Safety (NPPS) notes that playground injury prevention can include a broad perspective of factors, such as: maintenance, materials, environmental factors and safe user behavior.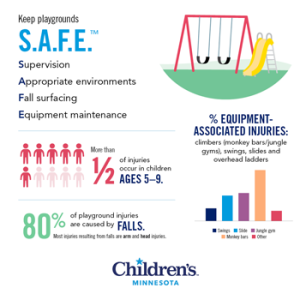 NPPS provides ways to help make sure your child stays safe on the playground – they call it S.A.F.E.™.
S = Supervision
A = Appropriate Environments
F = Fall Surfacing
E = Equipment Maintenance
Keep these safety recommendations in mind when your child is on the playground:
Actively supervise children; keep eyes on kids and encourage them to use equipment safely.
Ensure kids aren't wearing loose-fitting clothing or clothes with strings or ties that can easily get caught in equipment.
Be sure playground equipment is age-appropriate and designed for your child's skill and ability.
Check that the surface under playground equipment is soft enough to absorb falls

If you notice broken equipment or low amounts of loose fill underneath equipment (wood chips, sand, etc.), notify the playground owner — usually the city, county or school.
If you would like to evaluate your playground and know if it makes the grade, download this Playground Safety Report Card from NPPS.
Children's Minnesota is a Level I Pediatric Trauma Center
Children's Minnesota Minneapolis has again been recognized as a Level I Pediatric Trauma Center by the American College Surgeons (ACS). This is the highest level offered by the organization's Committee on Trauma. The renewal of this key verification at the Minneapolis hospital demonstrates that Children's Minnesota continues to meet the highest standards when it comes to caring for critically ill or injured children.
Among the attributes of Children's Minnesota as a Level I Pediatric Trauma Center:
Accepts injured children directly from the site of injury as well as from referring hospitals
Has the largest staff of board-eligible or board-certified pediatric emergency physicians and nurse practitioners in the state.
An in-house trauma service consisting of board-certified attending pediatric surgeons and trauma advanced practice provider to ensure immediate access to advanced trauma care and continuity of care throughout a patient's admission.
Availability of a broad range of specialists, including pediatric neurosurgeons, orthopedic surgeons, critical care intensivists, anesthesiologists and many others robust research program with diverse areas of interest.
The use of simulation, case reviews, and conferences to provide in-depth training and education in pediatric trauma care.
Has the only pediatric emergency medicine fellowship training program in Minnesota.
Features two trauma bays, a dedicated orthopedic room with advanced imaging capabilities, and a helipad.
Availability of child life specialists and social workers to assist patients and families with the physical, emotional and social issues and that may arise during their hospital visit.
Injury prevention efforts to address the needs of diverse patients, families and communities.
Alexandra Rothstein