Support Children's Minnesota – Join Team Superstars
Spring is here! It's time to lace up your shoes, get outside and run for the most amazing kids on earth!
As a member of Team Superstars, you commit to go the extra mile by running in a race of your choice and fundraising to support Children's Minnesota. Children's patient families, employees and community members are all welcome to join!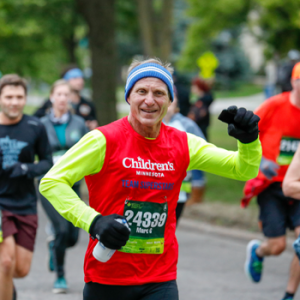 We encourage members to fundraise on behalf of our urgent needs program, which impacts all areas of Children's. We are also happy to work with individuals to raise money for a specific care area near and dear to them, such as child life, charitable care or our Cancer Kids Fund. Every dollar raised goes to the fundraising designation.
Team Superstars athletes have the opportunity to secure race entries to popular events such as the TC 10-mile and Garry Bjorklund Half Marathon. They receive exclusive Children's apparel, a personal fundraising website along with fundraising coaching, a training program and an invitation to a team celebration.
While Children's entries for the TC 10-mile and Garry Bjorklund Half Marathon are already gone for 2019, entries remain available for the full marathons. Already obtained an entry to the above races or want to participate in totally a different event? We'd still love to have you on the team. Contact Brady Gervais at [email protected] to learn more.
Go the extra mile for kids and register today!
Alexandra Rothstein