Dr. Stuart Winter, MD and CEIO James Burroughs speak at the Spring Pediatric Medicine Research Conference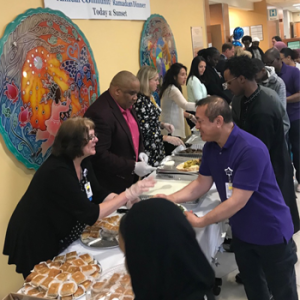 On Friday, April 26, the 2019 Pediatric Medicine Research Conference was hosted by the Children's Minnesota Research Institute (CMRI) in Minneapolis. The second-annual conference highlighted Children's research projects and priorities throughout the year and was attended by more than 100 participants, representing all practice sites within the Children's Minnesota network.
Chief Research Officer Stuart S. Winter, MD, opened the conference by celebrating the academic mission at Children's.
"With 1 in 5 internal medicine & pediatric residents continuing to train at 32 resident programs throughout our organization — totaling more than 140,000 patient care hours — Children's innovation, patent protection and the ongoing contributions of Children's research teams are of utmost importance," emphasized Dr. Winter.
James Burroughs, chief equity and inclusion officer and keynote speaker, followed Dr. Winter's introduction by discussing equity and the concept of I.D.E.A. – a strategic vision for connecting equity and inclusion to research and Children's as an organization:
Inclusion: Creating an environment where all employees, vendors, community partners, patients and families feel valued, respected and supported.
Diversity: Building and maintaining a workforce, as well as partnerships, that reflect the rich diversity of those we serve.
Equity: Providing value, access and opportunity for all employees to do their best work and be successful, and reducing and eventually eliminating barriers to workplace success.
Access: Increasing access and opportunity for traditionally underutilized and underserved populations. Access must be accompanied by quality service and resources in order to make it meaningful and result in equitable outcomes.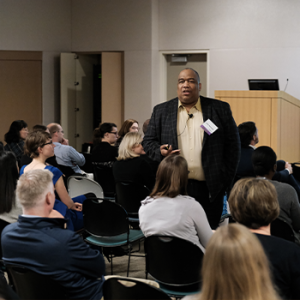 "Through performance metrics, implicit bias awareness training, self-assessments and the support of an active Health Equity Council," James explained, "both simulation and research at Children's will connect and adhere more strongly to the overall framework of equity and inclusion."
Throughout the conference, several representatives from research teams across the organization presented their innovative research projects and publications, participated in flash talks and led breakout sessions to encourage collaboration and discussion between community partners.
Additionally, attendees were given the opportunity to examine the details of each research abstract through self-guided poster viewing.
Highlights from the presentations include:
Lynn Tanner, PT: The Stoplight Program: Living the Children's MN Values Through Research and Knowledge Translation
Stuart Winter, MD: When No Event is an Event: Lessons from Children's Oncology Group AALL0434
Joseph Lillegard, MD: Gene and Cell Therapy for the Treatment of Inborn Errors of Metabolism of the Liver
If you were unable to attend and would like to view all of the conference presentations, please click here.
Thank you to all who participated in the conference. We look forward to seeing many more advancements in research and education here at Children's.
Alexandra Rothstein