How one Children's Minnesota leader is making his workplace greener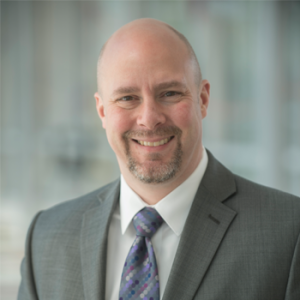 Children's Minnesota's commitment to environmental principles in business operations is not without challenge, as it is a 24-hour, 365-day organization. Helping to lead this effort is Jim Leste, vice president of support operations. We catch up with Jim to learn more about him and what's happening with Children's sustainability efforts.
Earth Day 2019 was a family outing day for you. Tell me about that volunteer experience?  It was a great day. I was able to get outside and spend time with my two daughters and some of my Children's colleagues helping to make a small difference in improving our environment. I've always enjoyed the outdoors and believe that it is everyone's responsibility to help improve the health of our environment and community. You know it was a good day when I'm already being asked about the next time we can do a volunteer clean-up activity together.
How long have you worked at Children's?  I've been a part of the Children's family for 20 years.  I started here as a safety/risk specialist and then advanced to lead our safety, security and emergency management teams. I'm still responsible for those areas in addition to our real estate, facilities, supply chain, nutrition services, environmental services as well as environmental health and safety.  In many of the areas I'm involved with, there's a significant opportunity to look at how we can become more responsible with our sustainability efforts.
What's new with our sustainability efforts?  Well, for starters we have a long way to go with a lot of opportunity and energy behind this in our organization. I've received countless emails and messages from interested nurses, physicians and leaders asking not only what we are doing, but what can we do to play our part in contributing to the health of our patients, families and planet.  I'm excited to work with them on implementing some of their ideas.
We have some good things going for us. Children's Minnesota recycles over 1 million pounds of paper annually, 160,000 pounds of compost waste in St. Paul (with United), and well over 100 tons of co-mingled recycling material at our hospitals,  just to name a few things. In 2019, we're looking to expand the compost program to the Minneapolis campus as well as start a green committee that represents our system.  Also new, at the end of 2018, we joined Practice Greenhealth, the nation's leading organization dedicated to environmental sustainability in health care, to benchmark and analyze our sustainability efforts.  It was great to win their Partner for Change Award for our many sustainability efforts, including recycling and waste reduction, but as I mentioned we have a lot more we can do.
How do you spend your time outside of work? My daughters are very active in competitive dance and school activities so that keeps me very busy. I also serve on the board of three organizations: Life Link III, the air medical transport company; Healthcare Linen Cooperative Services Board; and new this year, Nexus Youth and Family Solutions, a non-profit organization that provides mental health services for youth with emotional and behavioral issues.  I can also be found on the golf course in the summer and I just started curling this past winter, which turned out to be pretty fun!
If your office could be anywhere, where would you put it? Waikiki Beach, Hawaii.
Alexandra Rothstein