Chip and Joanna Gaines give to Children's Minnesota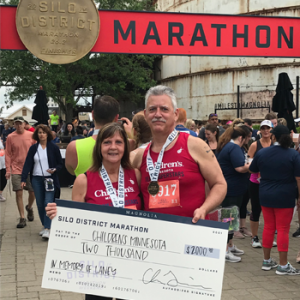 Brad and Barb Turgeon tragically lost their granddaughter, Laney, to cancer in November 2016. A year later, they, along with Laney's parents and aunt, joined Team Superstars to run and help raise money in support of Children's Minnesota in memory of their Laneybug.
At the time, Barb shared on her fundraising page that she wasn't a runner, but "it's time for me to get off the couch and run in Honor of my Buggy and the other little ones."
The self-proclaimed non-runner is still lacing up her shoes, today. Recently, while on a vacation in Waco, Texas, the Turgeons learned that the Silo District Marathon—a race hosted by Magnolia, a business owned by Chip and Joanna Gaines—was happening nearby. They decided to join in on the fun and ran the 5k in their Team Superstars gear.
During the event, the Gaines' learned about Laney. Inspired by the story, Chip and Joanna donated $2,000 to Children's.
Their commitment to cancer causes runs deep. The Silo District Marathon, started by the Gaines family, is in honor of the Brave like Gabe Foundation.
The Brave like Gabe Foundation was started by Gabriele "Gabe" Grunewald, a professional runner from Minnesota, to advance rare cancer research. With a long list of running achievements, Gabe has her sights set on the 2020 Olympics in Tokyo.
Off the track, Gabe is determined to win another race – a race against cancer. According to the Brave like Gabe Foundation website, "Gabriele has survived multiple bouts with cancer. Initially diagnosed with a rare salivary gland cancer, adenoid cystic carcinoma, in 2009, and thyroid cancer in 2010. She experienced recurrences of adenoid cystic carcinoma in 2016 and 2017."
Even with cancer, she has not given up on her running dreams. One day, when she was out on a run in Central Park in New York City, she ran into Chip and Joanna Gaines, former Fixer Upper stars.
They got to talking and started swapping stories: the Gaines' learned about Gabriele's Brave like Gabe Foundation, and she learned about Chip's long-time goal of running a marathon. With that, she agreed to train Chip for a marathon all the way from Minnesota!
Chip and Joanna started the Silo District Marathon race in 2018 not only to support the Brave like Gabe Foundation but also in honor of Chip's marathon goal. With Gabriele's help, Chip finished his first marathon.
We are so thankful for the donation from Chip and Joanna Gaines and all the support Team Superstars athletes, like Brad and Barb, have raised for Children's—it's truly amazing!
More about Team Superstars
When you join Team Superstars, our charity team of athletes, you go the extra mile. You commit to raising money in support of vital programs for Children's Minnesota, and you take on the challenge of participating in local, regional and national races.
Team Superstars athletes receive exclusive branded apparel for the race, a training plan, a personal fundraising website along with fundraising coaching, and an invitation to a team reception. Learn more about Team Superstars »
Alexandra Rothstein