Health Professional News, Mighty Blog
Pediatric trauma training brings teams together
The Children's Simulation and Emergency Care Consultants teams provide training and simulations as part of Children's mission.  As a Pediatric Level I trauma center, Children's Minnesota is resource and partner in providing education to clinical teams who treat pediatric patients throughout our region.  Tuesday May 14 the team worked with a group of ECC physicians and clinicians in the Michael and Judith Wright Family Pediatric Simulation Center to achieve the following:
Participate in hands-on simulated pediatric emergency scenarios
Practice management of a difficult pediatric airway
Review pediatric-specific airway equipment and supplies
Practice pediatric and neonatal chest tube placement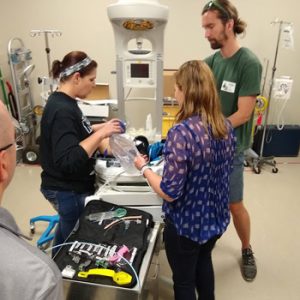 We're glad to work along the ECC team of physicians and advance practice clinicians.  There was great energy and commitment as they worked to perfect their clinical skills for kids.
If you're a health care professional looking to sharpen your critical event response skills, our simulation program was designed with you in mind. Connect with our Simulation team via email [email protected].
Laura Stokes