Asher's Dashers is on top of the Walk for Amazing fundraising leaderboard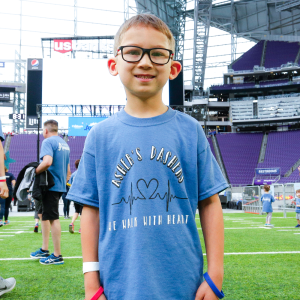 "Thanks to Children's, Asher is able to enjoy life as a typical kid, which is why we Walk for Amazing," said Aaron Thomas, Children's Heart Clinic patient Asher Thomas' dad.
Asher's journey at Children's Minnesota started before he was even born. At just 21 weeks gestation, Asher's heart rate fell from the typical 120 beats per minute to just 60 beats per minute. Pediatric cardiologists at Children's Heart Clinic diagnosed him with a congenital heart block, meaning that the electric signals in his heart were blocked so his heart didn't know when to beat. Months later, when Asher was just three days old, he underwent surgery to implant a pacemaker. The surgery was successful, and he was discharged days later.
"Children's cared not only for my child but our entire family," said Robyn Thomas, Asher's mom. "As first-time parents who didn't even know what a heart block was, every doctor we encountered was supportive, honest and forthcoming with information."
Asher's Dashers, a team started by Asher's parents, is on top of the Walk for Amazing leaderboard, having raised more than two and a half times their fundraising goal of $2,000 for Children's Heart Clinic! Asher's team walks every year, and shows no signs of slowing down anytime soon.
You can donate to Asher's Dashers, or register to raise funds for the program at Children's that means the most to you!

Walk for Amazing
Walk for Amazing 2019 is a fundraising walk for Children's Minnesota that supports people of all ages and diagnoses. Family-friendly activities and entertainment include:
Face painting
Yard games
Performance by DJ Kids Dance
Bouncy houses
Finisher medals for all participants
June 22, 2019, 7:30 to 11:30 a.m.
U.S. Bank Stadium
401 Chicago Avenue
Minneapolis, MN 55415
Kaitlyn Kamleiter