Minneapolis campus hosts interfaith Ramadan dinner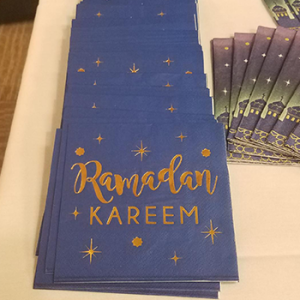 As sunset drew closer, the crowd grew and prayer mats filled the hall at the Children's Minnesota Minneapolis campus. Guests received cups of dates and water to break their more than 16-hour fast.
Children's Minnesota partnered with its internal Muslim employee resource group to host its second annual Ramadan dinner for more than 100 community members at our Minneapolis campus. The breaking of the fast – known as the iftar — was a community building opportunity for staff, families, neighbors and local leaders from diverse backgrounds.
Children's senior leaders, including CEO and President Dr. Marc Gorelick, stepped up to serve food to guests after sunset to break the fast. Guests also heard special welcome words by Dr. Gorelick, Attorney General Keith Ellison, Children's Chaplain Katie Slack and Sheikh Omar.
Attorney General Ellison spoke about Ramadan's focus on forgiveness and mercy. He thanked Children's for supporting the community and noted "You practice mercy every single day." Even later into the evening, Ellison took the time to speak with many from the community.
Donate your lunch fundraiser
The Muslim employee resource group at Children's, in partnership with the Children's Minnesota Foundation, will continue to promote the 'donate your lunch' fundraiser during Ramadan to raise support for MATTERboxes, a box of healthy meals and nutrition education, through the Family Resource Center. All families who find themselves at our hospitals and are in need of nutritional support are eligible to receive MATTERboxes.
For as little as $5, you can support food insecure families. Join the campaign by donating now!
Dina Elrashidy