Caring for children after they leave the neonatal intensive care unit
The Children's Minnesota neonatal intensive care unit (NICU) is the largest high-risk neonatal referral center in the Upper Midwest. Our neonatology program provides clinical expertise and compassionate care for around 3,000 newborns each year. That's more than any other program in the Upper Midwest.
All together, there are more than 500 experts from Children's on your side. Our neonatologists are joined by neonatal nurse practitioners, advanced practice nurses, registered nurses and many more.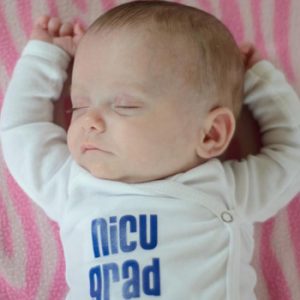 But the care we offer doesn't end after a baby goes home. The NICU Follow- up Program at Children's Minnesota follows preterm and high- risk infants throughout the critical first years post discharge. The program's mission is to provide ongoing care for NICU graduates to support optimal growth and development. In addition, long term monitoring of NICU graduates provides vital information that helps our neonatal program deliver the best care possible.
"We know that leaving the NICU is an exciting milestone but can also be overwhelming. Our program is available to monitor a child's development from infancy through preschool. Early, coordinated interventions to address concerns can change a child's developmental trajectory," said Cristina Miller, MD, NICU Follow-up Program Medical Director.
Our team of physicians, nurse practitioners, psychologists, therapists and social workers are experienced in treating babies and children with complex medical conditions. The program is offered at both the Children's Minnesota Minneapolis and St. Paul campuses, at no cost to families.
Typically, children are assessed at six months, 12 months, 24 months and 4 ½ years old. At any age, extra visits can be scheduled as needed. A visit will include growth assessments, a physical exam, and standardized testing to track the child's development.  Social work services are also available to assist families with resources to help in transitioning to life after NICU graduation.
The NICU follow-up program does not replace well child visits with a primary care physician.  Information obtained is shared with the child's primary physician to work hand-in-hand with regularly scheduled well-child care. We believe that partnering together with primary care providers, pediatric subspecialists and early intervention services help children develop to their fullest potential.
Watch the tour video to get a peek inside our neonatal program.
Children's Minnesota 3-site NICU Virtual Tour from Children's Minnesota on Vimeo.