Children's Minnesota in the News
Anna Youngerman honored as one of 2019 Women in Business for leadership
Anna Youngerman, chief value officer for Children's Minnesota and president of Children's Health Network, was selected as a 2019 Minneapolis/St. Paul Business Journal Women in Business honoree. This year's awards recognize 50 women for their professional achievements, leadership and contributions to the Twin Cities community.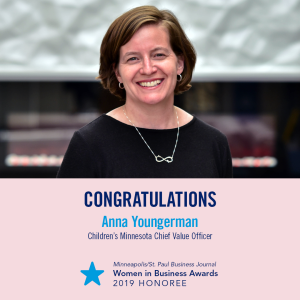 As part of her feature as an honoree, Youngerman reflected on her career and advised young people that "it doesn't make you weak to not know the answers and to need help… It's so important — both personally and professionally. There's so much value in leveraging others and in failing."
About her work, she said, "It's no secret that health care is a huge issue in our country but the answers aren't easy and achieving greater value will require dramatic change. It's simultaneously exciting and daunting, which is the kind of work that energizes me."
Congratulations to Anna Youngerman! Read more about the award and her experience: Women in Business Awards 2019: Anna Youngerman.
Laura Stokes