Why I Walk for Amazing: Callen's Story
We met Callen last year as part of our #WhyIWalk blog series.
As Lindsey and her husband, Ashton, walked with their children at last year's Walk for Amazing, Lindsey was shocked at how many of her Thomson Reuters coworkers she saw around U.S. Bank Stadium.
"I was so surprised!" recalls Lindsey. "After the event, I put out feelers to a few people and everyone was really interested in starting a team. So, we created the TR (Thomson Reuters) Tots for the 2019 event!"
To date, the TR Tots have raised more than $4,000 and plan to continue the momentum in the weeks leading up to the event with a coin drive and additional fundraising pushes.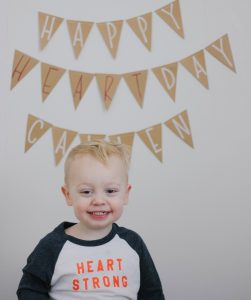 The Dorris family's Children's Minnesota story began on January 31, 2017, when their son Callen was born. For the first few days of his life, he appeared to be a healthy, normal newborn. However, after about two weeks at home, he became fussy and nearly impossible to console. His parents also noticed rapid and shallow panting but since Callen had been doing it since birth, they thought this was typical for newborns. They decided to bring him to the pediatrician and after the nurse struggled to get any vitals, the doctor came in to try and help. It was then that they realized Callen's oxygen levels were so poor that he needed to be taken to Children's Minnesota immediately.
A few hours later, Callen was diagnosed with Coarctation of the Aorta (CoA), where a heart is forced to pump harder in order to push blood through a constricted area. Callen's care team determined surgery was needed to correct the defect.
Lindsey and Ashton moved to the cardiovascular intensive care unit (CVICU), where Callen was admitted for surgery. The following day, a three-hour procedure successfully repaired the defect and Callen's recovery began. After seven days in the hospital, Callen went home with his family, recovering with a speed that impressed his care team and brought immense relief to his entire family. Today, he is two years old and loves to make his parents and older sister, Hayden, laugh.
"He had a great heart year," says Lindsey. "He's at such a fun age and has a big personality. He's doing great."
The Dorris family is counting down the days until Walk for Amazing. Hayden keeps asking her parents if they're doing the event again because she loved it so much.
"It's a fun day for all of us and we're really excited," said Lindsey. "It was so cool to run into people I'd seen at other Children's events or that I connected with through social media. Through this TR Tots team, I've met many people at my company that I never knew had their own personal Children's Minnesota stories. It's really cool to come together around the shared Children's experience."
Employees rallying together encouraged Thomson Reuters to sponsor Walk for Amazing for the first time this year. If you're interested in being a corporate sponsor, please email Kiirsten Conzemius at [email protected].
You have the chance to connect with doctors, nurses, and patient families and friends at Walk for Amazing on Saturday, June 22 at U.S. Bank Stadium. The event will be from 7:30 a.m. to 11:30 a.m. You can learn more about the event, register and begin fundraising here.
Alexandra Rothstein