Why I Walk for Amazing: Stella and Nora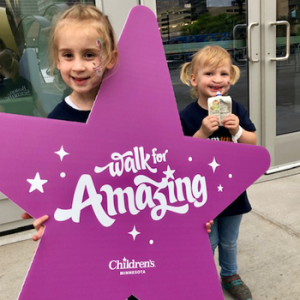 The Yanisch family is gearing up to participate in the second annual Walk for Amazing on June 22, 2019 at U.S. Bank Stadium. We met Stella and Nora Yanisch last year as part of our #WhyIWalk series and today, they're raising funds for their team Stellabration and getting ready to participate in this year's event.
"Walk for Amazing is a great place to find community," said Jamie, mother of Stella and Nora. "It's really inspiring to be there and see all the different stories, families and teams. Having health affected kids can be really lonely, so it's great to see the larger community support each other."
Their Children's story started at Stella's 20-week ultrasound, when doctors discovered Stella had a congenital diaphragmatic hernia (CDH), which is a hole inside her diaphragm. This hole allowed her stomach, bowel and a small piece of her liver to go into her chest, leaving her lungs little room to develop and grow. Immediately after birth, Stella was admitted to the neonatal intensive care unit (NICU), where she spent her first 16 days of life on extracorporeal membrane oxygen (ECMO) and her first six weeks of life intubated. After 87 days in the NICU, Stella was discharged. Today, she is celebrating finishing kindergarten and enjoys learning new things and meeting new friends. Jamie says she has an incredible imagination and she loves to play with barbies and dolls.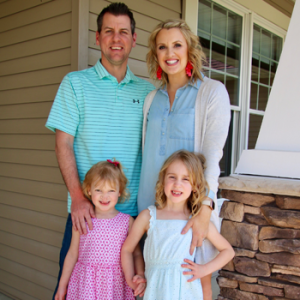 Two years after Stella's birth, Jamie and her husband Mike welcomed their second daughter, Nora, into the world. Nora was born with a cleft lip and palate, requiring extensive care by teams at Children's. Today, Nora is excited to start 4K in the fall and loves to make people laugh with her silly personality. Her parents call her their "little mermaid," because she loves to swim and is looking forward to a summer at their family cabin.
"Everyone is at Walk for Amazing to support and learn from each other," said Jamie. "It's great for our kids to see other kids that are just like them. It's also a great way to celebrate all of the things you've been through and are still going through."
Walk for Amazing took place at U.S. Bank Stadium on Saturday, June 22, 2019.
To learn more about the Yanisch family's journey, check out Jamie's blog, Becoming Joyful Mama, a mom blog focused on sharing their story and supporting other moms with health affected kiddos.