Advice for families in the NICU and friends who want to support
In January 2018, Hannah Hill found herself in a position no expecting mother wants to imagine.
The mom-to-be headed to the hospital after experiencing contractions toward the end of her normal pregnancy. Labor progressed quickly, but prior to delivery, fetal heart tones dropped dangerously low. Doctors and nurses filled the room and within minutes a decision was made to perform a c-section.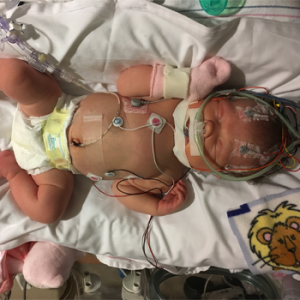 When she woke up from her procedure, the worry wasn't gone. She heard words like 'oxygen deprived,' "resuscitation," and "brain injury."  The hospital alerted the Children's Minnesota team, who transferred Hannah's new baby girl, Vada, to our Neonatal Intensive Care Unit (NICU).
No one dreams of their newborn ending up in the NICU. Unfortunately, it happens to approximately 78 babies per 1000 births in the U.S., according to a study published in JAMA Pediatrics.
"It's a really scary situation," Hannah said. Vada stayed in the Children's NICU for 14 long days. "It was the most difficult and emotionally traumatic experience that we ever went through."
But while there, from the support of family and friends to a myriad of free services offered at Children's Minnesota, Hannah and her husband Kevin found a way to cope and come through this experience stronger.
We asked Hannah what tips she had for families facing a similar situation. Here are a few:
Talk to someone. Talking to a counselor can help you cope with any feelings of guilt or depression.
Utilize available resources. Daily free meal tickets offered to nursing moms at Children's and volunteer-prepared meals at the Ronald McDonald House gave Hannah one less thing to worry about.
Take care of yourself. You need to be well to be able to take care of your family.
Accept help offered. Children's provides a number of free services to help families staying at the hospital, including support groups and Child Life Specialists. A Child Life Specialist helped Hannah and Kevin learn how to speak with their son Silas, who was 2 and a half at the time, about his sister and what she was going through. They also recommended that the family place photos of Silas in Vada's incubator so that he felt involved and closer to his sister when he watched her through the web cam at home. Hannah was able to print the photos at the Geek Squad on the Children's campus.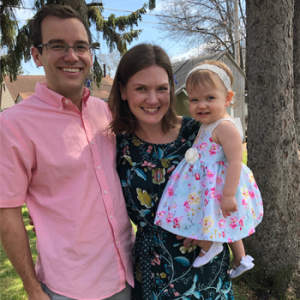 We also asked Hannah what families and friends can do to support. She offered some simple advice:
Offer to bring anything needed like clothes while families are in the NICU.
Offer to bring the family's other children to the Sibling Play Area so they get to spend time with them while staying a long time at the NICU.
Bring the family's favorite snacks like chocolate or baked goods to help manage stress while in the hospital. Once they're home, offer to drop off a meal. Comfort food goes a long way.
Simply stop by for a hug, to talk or offer your prayers.
Vada is now a little over one year old and is generally meeting developmental milestones. Her gross motor skills are slightly delayed, and Children's specialists will continue to monitor her closely over the next few years.
Dina Elrashidy