Walk for Amazing with Team Blake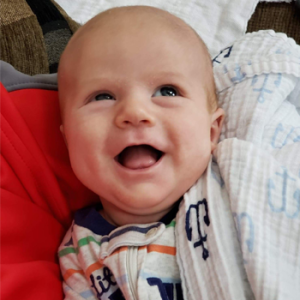 "We Walk for Amazing because we are ever so thankful for the teams that helped Blake through this start to his life," said Jenna Bereiter, Blake Bereiter's mom. The Children's Minnesota neonatal intensive care unit (NICU), cancer and blood disorders, and ear, nose and throat (ENT) joined together to make Blake's special story possible. Jenna started Team Blake in hopes of raising money on his behalf, giving back to future cancer patients.
"No child or family should have to worry about cancer, and if they have to, Children's should be equipped with all the tools and amazing staff and assistance with programs that children and families need while they are there," explained Jenna. "We're trying to do our part to help."
Blake was born on December 19th, 2018 in St. Croix Falls, Wisconsin. While delivery was smooth, he had difficulty breathing once he was born. His care team was not equipped to handle his health needs, so he was transferred to Children's NICU, where the reason he couldn't breathe on his own was found: a lump in his neck.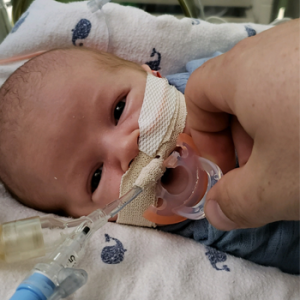 Just two days after his birth, Blake went to the operating room for further testing, including a biopsy and bone marrow test. Hours later, his care team at Children's confirmed the tumor in Blake's neck was neuroblastoma.
"I remember thinking 'Cancer? In a baby? How could this even happen?'" said Blaise, Blake's dad. "We knew Blake was going to have to fight."
Blake received chemotherapy, which successfully shrunk his tumor from the size of a lime to the size of a marble. At just two months old, Blake was discharged from Children's and was able to be at home with family. He returns to Children's every three months, but is a happy and thriving five-month-old.
"We're so thankful Children's helped Blake show cancer who's boss!" Jenna exclaimed.
Join Team Blake in raising funds for Children's cancer and blood disorders program, or register to support the program that means the most to you!
Walk for Amazing
Walk for Amazing is a fundraising walk for Children's Minnesota that supports people of all ages and diagnoses.June 22, 2019, 7:30 to 11:30 a.m.
U.S. Bank Stadium
401 Chicago Avenue
Minneapolis, MN 55415
Kaitlyn Kamleiter