Health Professional News, Mighty Blog
Redesigning the primary care experience
By: Bobbie Carroll, Vice President of Quality, and Monica Schiller, Vice President of Ambulatory Services
Redesigning the care experience to better meet our patients' needs is a strategic pillar for our 2020 vision. All of us have the power to shape and influence the patient family experience through compassionate and consistent day-to-day interactions. These micro-interactions differentiate the Children's experience and drive value and quality.
A St. Paul Clinic family recently shared with us how Children's made a difference in their baby's well child care experience by employing Children's Comfort Promise during immunizations:
"We had a great first experience. The doctor and nurse were very kind, listened to our concerns and answered our questions. We are very thankful [to Children's for] making my child's vaccination experience better than the previous clinic. They used numbing cream [on] my baby's legs to help a bit with the pain and there was also sugar and water available for her to take while getting her shots, which we didn't use. We will be scheduling her next appointment with the same doctor for sure!"
This is an example of how redesigning the care experience requires innovative approaches and a deep understanding of what matters to the patients and families we care for each day as well as effective systems, processes and culture to fully support the staff providing that exceptional care.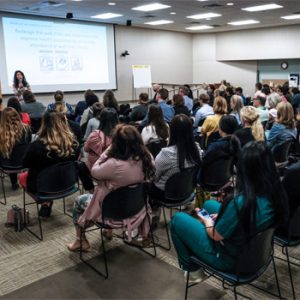 Last month, a group of nearly 100 primary care and inter-disciplinary team members came together to redesign the well child visit experience at our Minneapolis and St. Paul gen peds primary care clinics using an innovative methodology that combines lean principles with human-centered design. This came about because Hilary Carruthers, director of behavioral health and primary care, identified disparities of outcomes in these clinics and joined together with our quality-experience team to tackle both efficiency and empathy.
Using a methodology that started with understanding the experience from the patient family as well as the staff perspective, the team worked together for three days to identify process opportunities and brainstorm innovative solutions to redesign the care model, improving the experience and ultimately increasing rates of well child checks.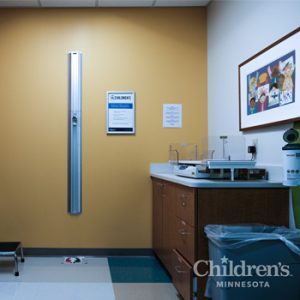 Staff identified immediate quick wins and several improvement projects to pilot over the summer that will build on our remarkable care experience and make it easier for patients and families to schedule and attend well child visits. Teams built empathy for each other by learning the different job roles and processes. They have committed to continued relationship building and weekly clinic huddles. It's an honor to support experience redesign efforts at Children's, and we are excited to share more as the team's efforts result in improved outcomes for our primary care patients and families.
Laura Stokes