Children's Minnesota shares S.T.A.B.L.E. Program at Buffalo Hospital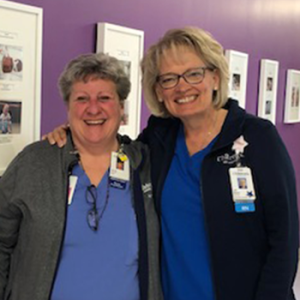 Children's neonatal outreach team recently presented the S.T.A.B.L.E. Program for the Buffalo Hospital nursery team.  The S.T.A.B.L.E. Program is focused exclusively on care of the sick infant during post-resuscitation/pre-transport stabilization care. The Buffalo Hospital accomplished these objectives during our time together:
Identify neonatal risk factors, symptoms and treatment for hypoglycemia.
State the detrimental effects of hypothermia.
Describe basic evaluation of neonatal respiratory distress.
Identify types and signs of shock in sepsis.
Describe the clinical signs of sepsis.
Describe ways hospital caregivers can support parents of sick newborns.
Children's Outreach team has partnered with hospitals throughout the 5 state region and presented over 200 S.T.A.B.L.E. Program courses.  Our time in Buffalo marked milestone for one of our instructors, Jan Gauger, APRN, CNP who presented this course for her last time.  Jan will retire this summer from a 40 year career in neonatal nursing.  She represents Children's Minnesota Neonatal Program well and demonstrates her passion for teaching, sharing her knowledge and helping hospital teams deliver the best care to all newborns, where ever they are born.
We offer Jan our sincere gratitude for her many contributions and to all of our neonatal colleagues who commit their time and expertise to connect with our clinical colleagues across the region.  A big shout out to the nursery team at Buffalo Hospital for their commitment to learning and developing the care practice for newborns locally.  Together, we make a team and great impact!
Kaitlyn Kamleiter