One family's journey with medical assistance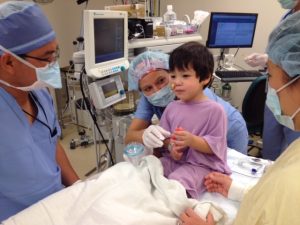 Wendy, Ben and their sons, Colin and Kyle, traveled to Washington, D.C., this week to advocate for an issue close to their hearts – the importance of funding for medical assistance programs. A few short years ago, the family was in a tough situation, their son was facing a life-threatening condition and skyrocketing medical bills threatened their financial security despite their solid dual-income.
Colin was your average kid, meeting milestones and wowing his parents with his easy laugh and mischievous smile. However, by the age of 2, he had been diagnosed with pneumonia twice. At that point, he was referred to a pulmonologist at Children's Minnesota for more specialized treatment.
The doctor determined that Colin's frequent respiratory issues were due to aspiration, which meant he could not swallow properly. Because of this, Colin needed a feeding tube placed. While at the hospital, the pulmonologist recommended an MRI of his brain. Unfortunately, Colin was diagnosed with a brain tumor shortly after his third birthday.
Luckily, the tumor was low-grade and non-cancerous. However, it was in the brainstem and threatened several vital functions. Children's Minnesota neurosurgeon Dr. Mahmoud Nagib recommended surgery to prevent further damage and hopefully stop future growth. Because of the location of the tumor and risks involved–including possible facial paralysis, hearing loss and losing the ability to eat–the goal was to remove as much of the tumor as possible without causing additional problems.
While the surgery was a success, Colin's journey wasn't over. The tumor had eliminated his ability to eat or drink by mouth. As a boy who loved food, it broke his parents' hearts to see him suffer this way. He soon began physical, occupational and speech therapy. Colin needed five therapy sessions per week to give him the best chance of being able to eat again. Their private insurance coverage had a maximum of 25 therapy sessions per year. Any session beyond that would be 100% out of pocket. The family found themselves concerned about their son's wellbeing and their financial security. With solid private insurance and both parents working, they hadn't expected to be in such a position.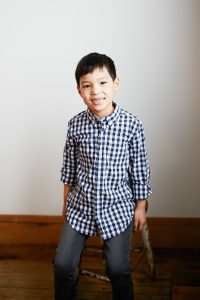 Wendy and Ben applied for a supplemental non-income-based insurance program with the state – the Tax Equity and Fiscal Responsibility Act (TEFRA). With Colin's legal disability status, they were eligible and he could continue speech therapy sessions. Thanks to the therapy, by age 5, his parents were thrilled that he could remove his feeding tube. Today, his tumor has remained stable and Colin has regained full swallowing function.
"There's always that worry. We just don't know what's going to happen," Wendy said. But TEFRA gave their family one less thing to worry about.
"This program basically allowed us to give Colin the ability to eat and drink again by mouth without some serious financial distress. For our family, it's so personal," she said. "We have really good private insurance, a really good comprehensive plan but even then. It's hard for us to imagine people that don't have that kind of coverage. We were grateful for what we had but wondering how other people make it through as well."
The family joins others from across the U.S. in Washington D.C. this week for Family Advocacy Day, an opportunity to advocate for funding and programming for children's hospitals and kids with special health care needs. You can learn more about Children's Minnesota's advocacy work and how you can get involved here.
Dina Elrashidy