How to make your own first-aid kit
Every home should have a well-stocked first-aid kit within easy reach, just in case of an accident or emergency. You can buy a kit at most drugstores or make your own to ensure it meets your family's unique needs.
Picking the right container
Use containers that are roomy, sturdy, easy to carry, and simple to open. Plastic tackle boxes or containers for storing art supplies are ideal because they're lightweight, have handles, and offer a lot of space and separate sections.
Packing your kit
An up-to-date first-aid manual.
List of emergency phone numbers.
Bandages: sterile gauze pads, adhesive tape, adhesive bandages, elastic bandage, splint.
Infection prevention: antiseptic wipes, soap, antibiotic ointment, antiseptic solution, alcohol wipes or ethyl alcohol.
Medication: hydrocortisone cream, acetaminophen and ibuprofen, calamine lotion.
Tools: tweezers, scissors, safety pins, disposable instant cold packs, thermometer, plastic non-latex gloves, flashlight and extra batteries, mouthpiece for CPR, blanket.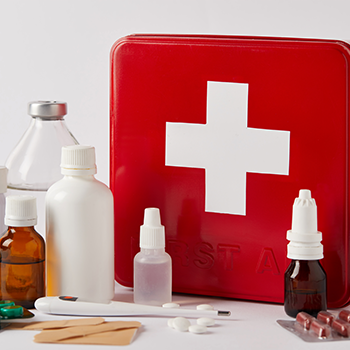 Kaitlyn Kamleiter