Work Here Wednesday: Becky Ammerman, Families as Partners program assistant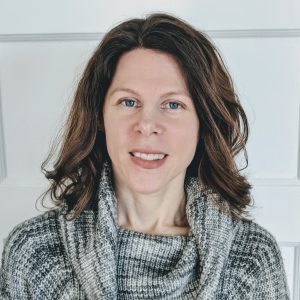 We work for our patients and families and we believe children come first. That goes for all the positions open at Children's Minnesota. Our doctors, nurses, support staff, custodial staff, cooks and more are all important to the mission of Children's.
Families as Partners (FAP) is an organization-wide program at Children's that engages the patient family perspective through participation in a variety of experience teams, patient and family-centered care education sessions, peer-support events and activities, committees and testimonials. This partnership with patient families is essential to improving the patient experience at Children's.
We asked Becky Ammerman, Families as Partners program assistant, to tell us more about what it's like to work at Children's.
What do you love most about your job?
It is a rare privilege to combine my professional skills with the perspective I gained as a patient family with experiences in the NICU and cardiovascular worlds. My experience as a parent to an infant who had complex medical needs informs my sense of responsibility and commitment to our program, and to the role it plays in affecting institutional change. I love that what I do behind the scenes helps facilitate real connections for patient families in what can feel like an isolating time.
I also really enjoy working across departments. I work with Interpreter Services, for example, to help ensure that patient families with limited English proficiency can participate in our peer-support activities in a meaningful, equitable way.
What does a typical work day look like for you?
My day starts with coffee and a look at the Families as Partners program calendar to see what's scheduled, and what's coming up. Beyond that it's tough to pin down a "typical" work day! We are currently preparing to orient a new group of Families as Partners volunteers, so I'll be busy tackling the task of preparing orientation materials and correspondence. When we receive requests for family involvement we consider each family's unique voice and experience and prepare them for successful and meaningful involvement, so it's exciting to anticipate how each new volunteer will contribute their time and wisdom to the program.
Kaitlyn Kamleiter