Five tips to keep kids safe near water
With the Minnesota summer heating up, taking a dip in the pool or lake is the perfect way to cool down.  Dr. Natalie Rigelman-Hedberg from Metropolitan Pediatrics has five tips to help keep your kids safe while swimming:
Swimming lessons: Children should receive swimming lessons from a qualified instructor. Parents can start children in swimming lessons as young as one year old. Swimming lessons are available locally through the American Red Cross and the YMCA. The Minneapolis Park and Recreation Board launched the Water and Ice Safety Education (WISE) program, which offers a package of eight 40-minute swimming lessons for just $5.
Supervise: There is no substitute for supervision. Be sure to supervise children of all ages when near water. Parents should be sure to keep children under age 5 within arm's reach at all times and keep their eyes on children between ages 5 and 12. Encourage your kids to swim with a buddy at all times and teach them what to do in an emergency. Avoid distractions, especially cell phones. Drowning is a quiet accident, and young children should be supervised by an attentive adult.
Wear life jackets: Children and teens should wear life jackets whenever they are near open bodies of water, such as lakes or the ocean. Be sure to use a U.S. Coast Guard-approved life jacket that is in good condition and is the appropriate size for your child's height and weight.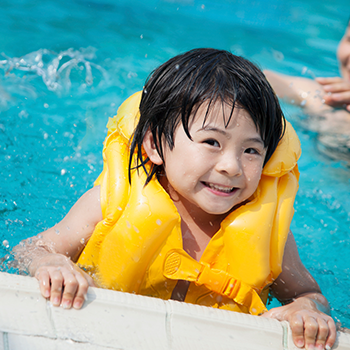 Enforce pool rules: Pool and beach rules exist for a reason! Parents should be sure to enforce pool safety rules such as no running, pushing or horseplay when near water, this is especially important when there is no lifeguard on duty.
Learn CPR: Parents and teens should learn CPR in case of emergency.
Remember, while drowning is uncommon overall, it is a real danger for children under the age of 5. The American Academy of Pediatrics recommends parents keep these safety tips in mind when children are around any standing water including pools, lakes, oceans as well as the bathtub. For toddlers, avoid leaving standing water in buckets, wading pools, and even leaving the toilet seat up.
If you have additional questions about how to keep your children safe near water, ask your pediatrician at your next well-child check. Schedule your well-child exam today.
Kaitlyn Kamleiter