Dr. Marc Gorelick joins panel on health care staffing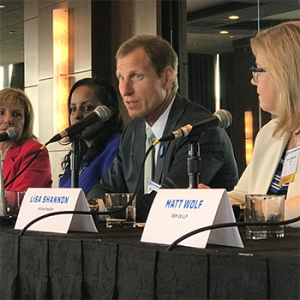 Dr. Marc Gorelick, Children's president and CEO, participated in a panel moderated by Alex Wittenberg, reporter at Minneapolis/St.Paul Business Journal (MSPBJ), to discuss challenges and opportunities related to the health care workforce. Dr. Gorelick was joined by Laura Beeth, vice president of talent acquisition at Fairview Health Services; Dr. Jokho Farah, director of quality improvement and patient health at People's Center Clinics and Services; Lisa Shannon, COO at Allina; Matt Wolf, director of financial advisory services at RSM US LLP.
The panel covered strategies for bridging skills gaps and meeting the challenges ahead for hospital and health care staffing as the state's population continues to age, demanding more health care services. Panelists spoke about the need to get students engaged early in health care careers, starting as early as middle school.
A major opportunity highlighted in the conversation was the need to meet the increasing demand for nurses. Panelists pointed to the importance of adapting nursing programs to reflect future needs, expanding practical training to fit scenarios in and outside of hospitals. Increasing the number of students entering nursing careers would expand the pool of qualified workers who can provide bedside care for Minnesota's aging population.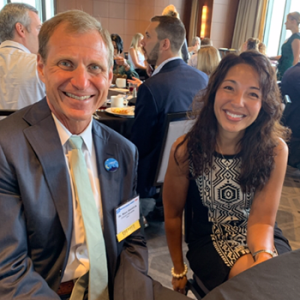 Attracting and retaining a diverse workforce was a key theme throughout the discussion. Dr. Gorelick spoke about Children's focus on increasing workforce diversity, explaining that engaging underrepresented populations could be one of the quickest ways to reduce the workforce shortage. In addition, a workforce that represents the patient populations served can lead to better outcomes and patient satisfaction.
Immigration reform could also increase the number of eligible health care workers. Increasing the approval rate of H-1B visas, which are generally granted to highly skilled workers, will increase the number of people who may choose to use their skills in a health care setting.
Finally, developing wellness programs and therapy designed to reduce physician burnout could reduce the number of medical professionals who choose to pursue another career path before reaching retirement age.
"It's a big issue that we need to deal with," Dr. Gorelick told MSPBJ. "In my own view – and I'm a physician myself – it's getting more attention now, but I don't think it's a particularly new phenomenon. There are no quick fixes and it's important to look at the root cause of the problem.
This panel was the third event in MSPBJ's Workforce Series, which aims to highlight the thoughts of key leaders on challenges and opportunities that lie ahead in their industries. Read more about the topics covered in the series here: Help Wanted Minnesota: How to heal the state's health care staffing deficit.
Kaitlyn Kamleiter