New internship program emphasizes equity and inclusion
When James Burroughs began his role as Children's first chief equity and inclusion officer in January 2019, he saw a need for a comprehensive internship program for diverse candidates. He immediately started working to establish the Equity and Inclusion Internship Program, which launched just one month later.
The goal of this new and improved internship program is to expose high school and college students to different career options at Children's, as well as to allow students the opportunity to learn and ask questions about the work they're doing. Additionally, students who are not sure of the career path they want to pursue will have a chance to explore many different employment options through an internship at Children's.
"This opportunity has allowed me to gain a better understanding of all the work that goes into being able to run a hospital and being able to provide every child the best care possible. There are people here who are always putting others before them and wanting change for equity," said Sofia Montano, a recent intern in Children's ethics department. "I was moved by the work of those people and this opportunity has motivated me to work for my end goal to become a dermatologist and help as many people as I can."
By 2050, one out of two eligible workers in Minnesota will be people of color and Native American. This is why enhancing the Children's existing internship program to include even more opportunities for diverse high school and college students will significantly impact our ability to recruit and retain a diverse workforce today and in the future.
"We want all who engage with us to feel valued, included, respected and supported. That means having a workforce and partners who reflect the diversity and rich backgrounds of the communities we serve," Burroughs said. "Having the equity and inclusion internship program creates a pipeline of talent that ensures that those from diverse backgrounds have access to future employment opportunities at Children's. This, in turn, ensures best-in-class care for patients and families."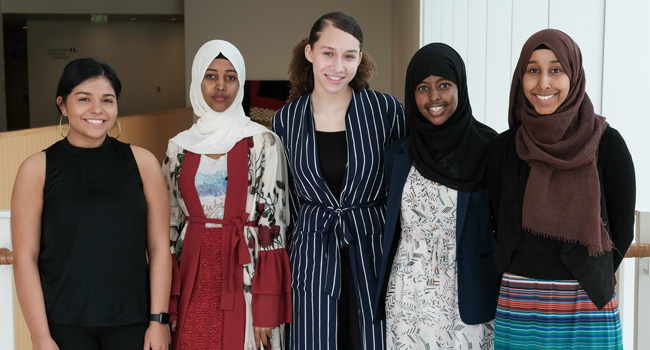 Children's partnerships that help make this happen
Children's Minnesota worked with two programs to help accomplish hiring diverse interns at Children's.
Children's has partnered with AchieveMpls and their Step Up program in the past to sponsor interns to work in a variety of positions. Burroughs partnered with Danielle Grant, AchieveMpls' president and CEO, to rejuvenate the program and expand the level of participation in the future years.
In addition the equity team worked with the Dougherty Family College at the University of St. Thomas in Minnesota to help hire top-talent interns. There are plans to continue to expand this partnership next year.
Plans for the future
In 2020 and beyond, the plan is to use the revamped internship program to recruit very diverse talent to intern in every department at Children's.
If you are interested in learning more about the internship program at Children's, please contact David Collier at [email protected]
Alexandra Rothstein