Healthy and creative back-to-school lunches
It's the end of summer, which can only mean one thing
Parents are getting ready to send their kids back to school. They're busy filling backpacks with pencils, notebooks, glue sticks and more for the first day of school. But it's also important for parents to think about the lunches and snacks they'll send with their children to help power through the school day.
When you are so busy as a parent, it can be tough to think about how to make children's lunches healthy and filling, and that's why we're here to help.
Caitlyn Talbert, RDN, LD, working with the Cystic Fibrosis and Endocrinology programs at Children's Minnesota, shares more about why kids need to maintain a balanced diet, and how parents might help kids eat healthy during the day.
"It's important for children to maintain a balanced diet in order to obtain the vitamins and minerals they need for both academic performance and play," she explained. "Providing well-balanced meals and snacks with sufficient energy and nutrients ensures that kids are able to reach their full potential for growth and development and maintain a healthy weight."
A new school-lunch trend is the bento box-style lunch box – a customizable lunch box that divides food into sections. This allows parents to pack visually stimulating lunches with healthy foods of many colors, textures and flavors.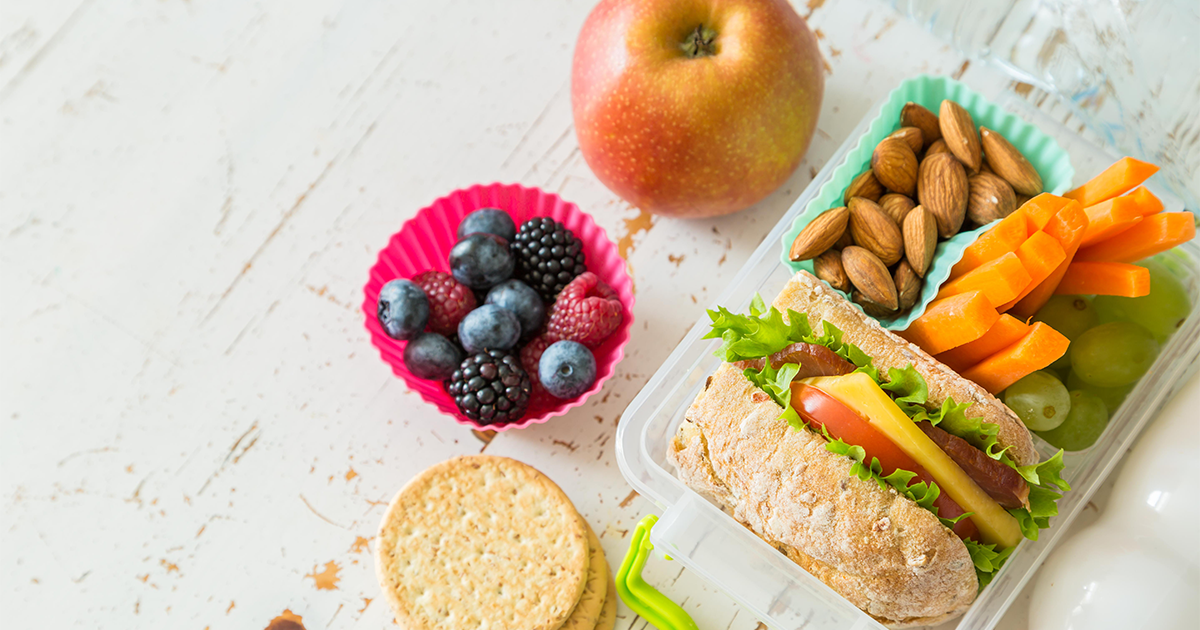 Pack their lunch with different food groups:
Talbert recommends adding at least one food from each food group to their lunch to provide them with a filling yet healthy meal.
Protein includes meat, fish like tuna, poultry, eggs, beans, legumes, nuts and nut butters, lentils and legumes, and soy products. These help with building tissues and growth.
Grains like pasta, breads and rice contain important B vitamins and fiber that supply kids with energy and keep intestines healthy. Try to make half of all grain products 100 percent whole wheat.
Fruits and veggies come in many fun colors and textures, and they contain a lot of micronutrients that help with many body functions such as eyesight and fighting off infections.
Dairy is a great source of calcium and vitamin D, which help bones and teeth grow strong and sturdy. Dairy products made with low fat (1 percent) milk are best for kids.
Ideas to include in your bento box:
Whole wheat crackers with cheese
Sliced apples with nut butter
Grapes, berries or a clementine
Trail mix or mixed nuts with dried fruit
Tortilla roll-ups with their favorite thinly sliced veggies, deli meat with cream cheese or ranch dressing
Carrots, bell peppers, cucumber slices or cherry tomatoes
Pretzels with guacamole or hummus
Tuna or chicken salad
A peeled hard-boiled egg
Turkey and cheddar or caprese "skewers" on tooth picks
Whole wheat pasta salad
Popcorn
Banana, honey and nut butter tortilla roll-up
Yogurt
Cheese sticks
Choose MyPlate is a great resource for more ideas on how to build healthy, balanced meals.
Kaitlyn Kamleiter