Work Here Wednesday: Intern Sofia Montano
This summer, Children's Minnesota launched the Equity and Inclusion Internship Program. The goal of this new diversity initiative is to expose high school and college students to the breadth of career opportunities available at Children's and build a diverse pipeline of diverse candidates for the future.
We sat down with Sofia Montano, a recent intern in Children's Ethics Department, to talk about her experience this summer.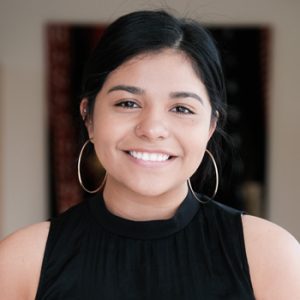 What was your role at Children's?
In the internship program, we were given an opportunity to express our interest for potential careers. When sharing our interest we were matched with an internship that would allow us to be able to gain knowledge about our interests and to build connections. When coming to Children's, I was placed with the Ethics Department and I was completely oblivious to what the department was and its purpose was in the hospital. As time went on, I was able to get an understanding of the purpose of the department, as well as gain an appreciation for it because it is a department that truly listens to the wants and needs of patients.
How did you learn about the internship program?
The Dougherty Family College (through the University of St. Thomas) was able to get me this internship and connected me with a field in which I expressed future interest. My end goal is to become a dermatologist, so this internship was an opportunity for me to see the day-to-day activity at the hospital and also build connections with people. I am a sophomore this year and I plan to transfer to the St. Thomas four-year program to major in anatomy and biochemistry.
What was a memorable activity you participated in during your internship?
Shark Tank – this exercise was intended to express what we thought would make Children's better and what improvements could be made that would allow patients to feel more welcomed and at home. This exercise allowed me to make more observations of the hospital and the way that departments work together. I was able to see the good and the bad, and come up with ideas to make an improvement. I also pictured myself as a patient – and what would make me feel as though I am being heard and respected. (Some of the interns' ideas included personalized name badges with flags to identify nationality, side-snap hospital gowns, and hijabs for Muslim patients.)
What else did you learn this summer?
With having a diverse background, I was able to help those in my department gain a better understanding of the Latino community and the daily challenges we face. I was able to help them gain an understanding of our forms of treatment and medication but, most importantly, I was able to educate them on the strong values that many in the Latino community have. What surprised me the most through my experience here at Children's was the amount of work that still has to be done in order for all patients to feel respected and be treated equally.
If you are interested in learning more about the Equity and Inclusion Internship Program at Children's, please contact David Collier at [email protected]
Laura Stokes