Minnesota Wild forward Zach Parise hosts skating party for Children's Minnesota patients
Minnesota Wild forward Zach Parise and his wife, Alisha, hosted a skating party for a group of Children's Minnesota patients on Wednesday, Sept. 4, at TRIA Rink in downtown St. Paul. All patients, ranging from ages 9 to 17, who skated with Parise have a passion for hockey and play the sport themselves.
Once the 11 patients arrived at the rink, Parise started the night out by giving the kids and their families a tour of the Minnesota Wild locker room.
"I think the most important thing is when we bring kids down to the locker room, they check it out, they're smiling, they're loving being in the Wild locker room," Parise said in an interview with WCCO. "So, [that] experience for them, is fun for us to see."
Parise was then joined by other Wild players including Ryan Suter, Eric Staal, Mats Zuccarello, Brad Hunt, Jordan Greenway, Luke Kunin, Alex Stalock and Marcus Foligno. Children's patients were able to play an hour-long hockey game with Parise and his Wild teammates. Surprise guest former Minnesota Twins player Joe Mauer also showed up to play.
"It's fun to see the kids smiling, having a good time," Parise told KARE 11. "I remember being that age how neat it was or how cool it was to be on the ice with some NHL guys. So, to be able to give them that experience, we love doing it, all the guys love doing it. So, it works out pretty good."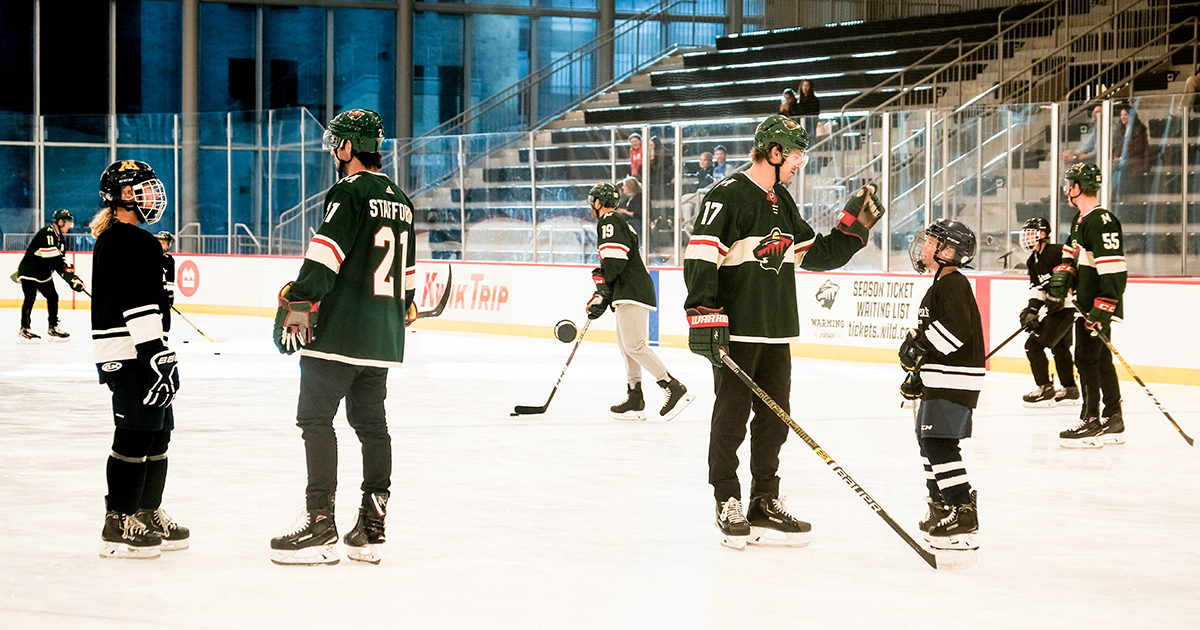 A night to remember
The night ended with a well-deserved pizza party with Parise and Mauer. As families were getting ready to go home after eating, each kid received a Minnesota Wild jersey signed by the players who skated with them along with other Wild gear.
The skating party was purchased during a live auction at the Children's Minnesota 2019 Star Gala by Steve Brown, in honor of his late wife, Monique Hook. The monetary donation will go to the genomic medicine program, helping Children's diagnose and treat kids with rare and complex genetic conditions.
"Actually, the guy that purchased it tonight bought the original one and he came up with the idea," said Parise on an interview with Fox 9. "He buys it [and] invites children that either are current or former patients from Children's [Minnesota] that have played hockey, and so all these kids out here have a little hockey experience and they're going to come out and play with us."
View and download the photos from the night on SmugMug.
Alexandra Rothstein