Children's Minnesota helps Iraa Shine Bright while battling cancer
Two-year-old Iraa is described by her father, Dr. Pankaj Nagaraj, as an outgoing, bright and fun-loving girl. But it's hard for kids like Iraa to Shine Bright in the face of cancer or other serious illnesses.
Subtle symptoms lead to a diagnosis
After returning to their home in Iowa following a trip to India, Iraa's parents noticed that she seemed pale and wasn't eating solid food, but otherwise was her normal, vibrant self. The symptoms were subtle, but Dr. Nagaraj's training as a physician and her mother, Deepti's, maternal instincts told them something was wrong. Dr. Nagaraj performed a cursory examination on his daughter, noticing that her lymph nodes, liver and spleen were enlarged. Concerned, he asked Iraa's pediatrician to perform a blood test, which confirmed his worst fear: Iraa had cancer.
The blood test came back positive for Acute lymphocytic leukemia (ALL), a type of blood cancer affecting the lymphocytes. This is the most common type of cancer found in children. With affirmation from his colleagues, they chose to bring his daughter to one of the best pediatric cancer treatment programs in the country: Children's Minnesota.
When she was just 16 months old, Iraa's family made their first trip to Minneapolis to begin her treatment and intensive chemotherapy.
The little things can help the most
Surgery is a scary proposition for any patient family, and the Nagaraj family was no exception. In order to receive long-term chemotherapy, Iraa needed to have surgery to install a port so that the chemotherapy could be delivered into her body in a reliable manner. Her care team did everything they could to make sure she stayed calm and comfortable before surgery, and to ease Dr. Nagaraj's and his wife's anxieties, including allowing her family to carry her to the operating room.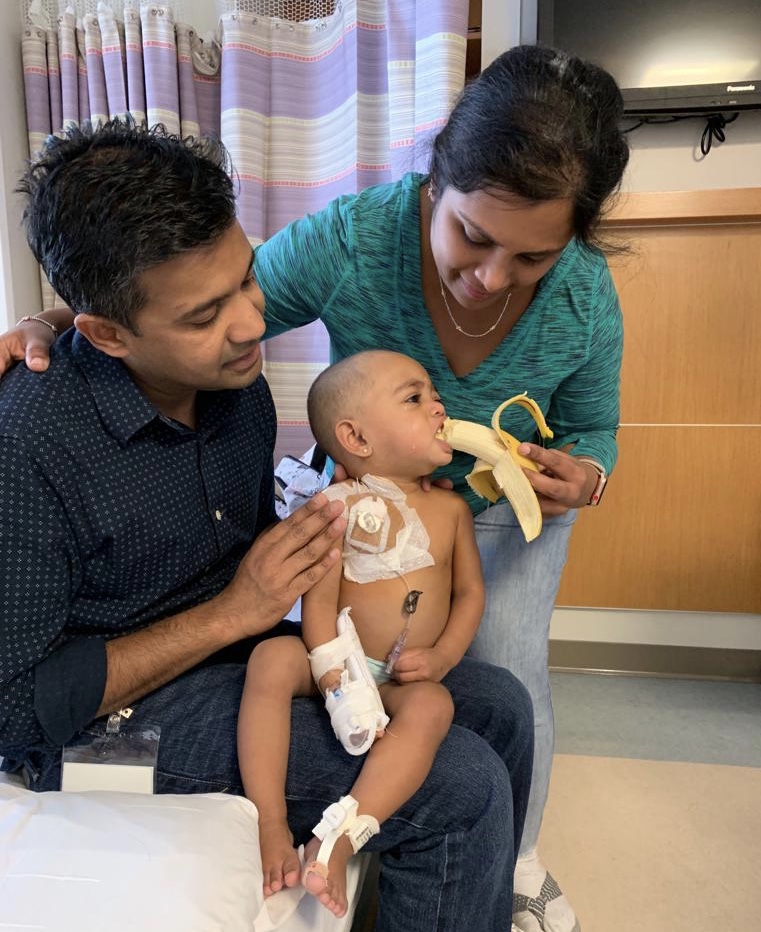 While coming out of the anesthesia, Iraa was craving a banana, but there weren't any available in the hospital at the time, Dr. Nagaraj recalled. One of the nurses on Iraa's core care team went and got a banana from her own lunch and gave it to Iraa so that she would eat. "It's a very trivial thing, but it goes a long way and left a lasting impression," said Dr. Nagaraj.
"I truly believe that it's not just the medication or the provider that makes the difference, it's the teamwork between the various departments that leads to good outcomes.  At Children's, they treat kids like their own," said Dr. Nagaraj.
The way Iraa was treated changed how Dr. Nagaraj practices medicine himself, "This experience helped me grow as an individual and a physician," he explained. "When any clinical decision is made at Children's, the entire care team asks themselves 'Would I do this to my child?' If the answer is no, they don't do it."
Dr. Nagaraj was impressed with Iraa's care team from start to finish. This experience led him to make a change. He wanted to be part of the Children's team that provided exemplary care to Iraa, so he applied for a job in Neonatology Program and officially moved his family to Minneapolis.
"Everyone in the hospital truly lives the organization's values, which, in my experience, is rare." Dr. Nagaraj explained that he loved how Children's employees are accountable not only to each other, but also to the patients' and families' outcomes.
Because ALL is the most common type of cancer found in children, Iraa's condition is well-known and familiar at a children's hospital, but Dr. Nagaraj believes that the fact that she's doing so well is nothing short of amazing. He explained that he doesn't think his daughter would be doing as well without the coordination between her doctors and nurses, child life specialists, and the supporting staff.
Iraa is now able to spend most of her time at home, usually returning to the hospital four to five days each month.
Shine Bright for Cancer Kids
In honor of Childhood Cancer Awareness Month, businesses around Minnesota are providing special discounts and promotions throughout September to raise money for Children's Cancer Kids Fund.
Shop, drink and dine at your favorite businesses to help provide families with everything from activities, entertainment, music therapy, to everyday expenses like meals and transportation. Each time you visit a participating business, use #ShineBright on social media to spread the word!
About the Cancer and Blood Disorders program at Children's
We are the largest pediatric cancer and blood disorders program in the Upper Midwest, caring for more than 55 percent of children diagnosed with cancer or blood disorders in Minnesota, and 70 percent of those diagnosed in the Twin Cities. We also care for our patients' families by investing in the Cancer Kids Fund, which supports wellbeing through music therapy, child life experts, pet therapy visits, meals, playtime for siblings, as well as help covering a family's everyday expenses.
Kaitlyn Kamleiter