The importance of early childhood development this school year
By: Dr. Marc Gorelick, President and CEO, Children's Minnesota; Jennifer DeCubellis, Deputy County Administrator, Health and Human Services for Hennepin County; Bharti Wahi of Children's Defense Fund Minnesota; and Nancy Jost of West Central Initiative, Co-Chairs of the Minnesota Prenatal to Three Coalition
It's the time of year when leaves are changing, parents are dusting off warm jackets for their kids and our social media feeds are filled with copies of school pictures.  Kids have settled into class schedules, and routines and bedtimes have gotten increasingly earlier.
As our children get used to the new school year, some for the very first time, it's a good time to think about how we prepared them to enter those schoolhouse doors. How are we supporting our youngest learners and their families to ensure they have everything they need from the time they are born to succeed in school?
Research shows that the period from birth to age 5 is foundational for kids' physical, mental and social growth. It is during these early years that children experience tremendous brain development, as this is when the brain is most responsive to a child's environment and social experiences, both positive and negative. We know that positive engagement – things as simple as basic play and reading to kids – results in a number of health benefits for children. This includes lower stress levels, an increase in positive thinking and a boost in self-esteem – all of which improve kids' chances of success in life and in health.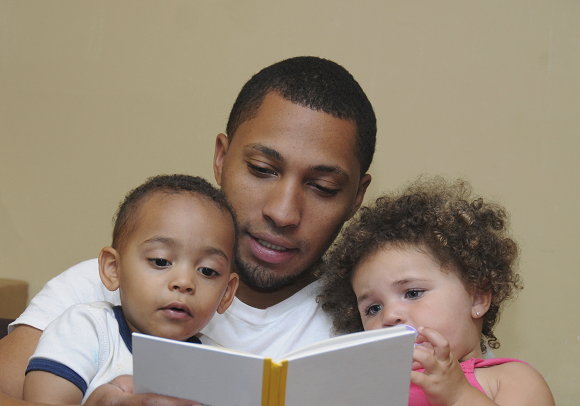 Recognizing this key stage in development is especially important here in Minnesota. While the state's population is ranked among the most educated in the nation, there are striking disparities between white people and people of color. For instance, last year Minnesota high schools had a graduation rate of 83.2 percent, but graduation rates for minority students were markedly lower at 51 to 67 percent, according to the Minnesota Department of Education.
Additionally, approximately 80 percent of Hennepin County's Health and Human Services budget focused on children and youth goes toward "deep-end" services like child welfare, out-of-home placement and therapeutic treatment.
Therapeutic treatments services for addiction, mental health, trauma recovery, homelessness of parents and families are rendered when we as a community have already failed our youth. This is why it is critical for us to support our young ones, particularly those who are disproportionately impacted by toxic stressors like abuse, neglect and economic hardship, as well as the systemic racism that leads to an un-level playing field. If we are serious about closing the achievement and opportunity gaps, we must start investing more in our most vulnerable children: our babies and toddlers.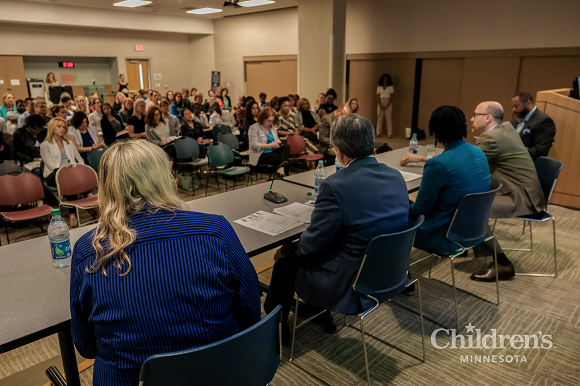 To emphasize the importance of early childhood development, Children's Minnesota, HealthPartners, Hennepin County and the Minnesota Prenatal to Three Coalition partnered to host a screening of No Small Matter, a documentary about early childhood development in America. After the screening, a panel of experts – including Mike Troy, clinical psychologist with Children's; Rep. Dave Pinto, chair of the House Early Childhood Finance Division; Deb Lund, executive director of Baby Space; and Jamie Albert; principal associate for the National League of Cities – discussed solutions to bolster the health and care we give to kids. This included increased funding for home visits and family support programs, access to high-quality early development opportunities, and incentives for businesses and organizations to implement policies that foster a more family-centered environment.
In addition to policy approaches and funding increases, there are some simple things we can do as caregivers and loved ones of little kids. We all have a role and part to play in their success and resiliency, such as:
Engaging in conversation. Numerous studies have shown that parents can have a deep influence over their child's speech and brain development by simply talking to them. That's because a conversation with an adult can change the child's brain architecture – so it's important to not just talk to a child, but with a child.
Promoting play. Not only is play fun for kids, it allows them to be creative and express themselves through their imagination. According to the American Academy of Pediatrics, play is essential to early childhood development because it contributes to the cognitive, physical, social and emotional well-being of children and youth.
Developing their self-esteem. These can be simple things like praising a child, being a good role model or mentor, focusing on what they do well, and doing away with harsh criticism. The better kids feel about themselves, the more confident they will be to learn and try new things.
Minnesota has long been a leader in education and health care, but we rank in the bottom for our health and educational disparities. We can and should do better for our kids because children are 20 percent of the population but 100 percent of our future. There is no better time to act and invest than now.
Kaitlyn Kamleiter