A nurse who is always giving, also gives back to Children's
Emily Machones knew she wanted to be a nurse ever since she was 12. When she visited her grandmother in the hospital, she was in awe of how nurses worked seamlessly as a team to help a patient who was crashing. From that moment on, she knew that she wanted to be someone that others could go to for help, and so grew her passion for nursing.
"Our patients at Children's are so resilient and the impact they will make on the world is so powerful," said Machones.
While Machones is constantly giving her all at her job, she also gives back to Children's Minnesota through donations. However, Emily is not alone. Last year Children's employee donors stepped up in a big way for our patients raising nearly $600,000 for various programs.
Machones firmly believes that she could not provide the level of care our patients deserve if not for the team behind her, which includes donors. Any gift, big or small, makes a huge impact on Minnesota children, whether they are battling cancer, receiving physical therapy, visiting the emergency department or using any of our specialty care services, your donation helps.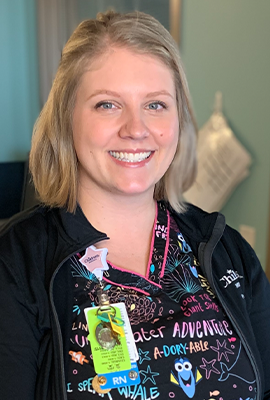 When you donate to Children's you become part of kids' stories, and you help Emily continue her Children's story.
Kaitlyn Kamleiter