Patient family brings bravery to Children's cardiovascular patients
The Dorsing family understands that hospital stays can be scary for any child, even the bravest patients.
In July 2019, Beth and Jeromy Dorsing's son, Andrew, passed away at age 6 due to complications from a congenital heart defect called Aortic Stenosis. While the family was healing, they wanted to help other patients at Children's Minnesota during their hospital stays.
In remembrance of Andrew, Beth and Jeromy along with their two older sons, 11-year-old Nathen and 9-year-old Jesse, created something called Bravery Boxes. Bravery Boxes are boxes of prizes and toys that families and staff can use as a reward for patients when they overcome their fears throughout treatment.
On Tuesday, Nov. 5, 2019, the Dorsing family donated four new Bravery Boxes to Children's as well as refilled one existing box.
Andrew's Children's story started on Dec. 18, 2012, one day after he was born. Shortly after birth, his care team at Mercy Hospital found a heart murmur, and knew he needed to go to Children's. He was admitted to the neonatal intensive care unit (NICU) where his family met with the cardiologist on call, Dr. Marco Vezmar. After meeting with Dr. Vezmar, Andrew underwent a cardiac catheterization procedure and spent one week at Children's.
After this, the Dorsing family continued to see Dr. Vezmar at Children's Heart Clinic regularly. Over his 6-and-a-half years of life, Andrew underwent three surgeries, five cardiac catheterization procedures and two computed tomography (CT) scans, totaling more than a month in the hospital.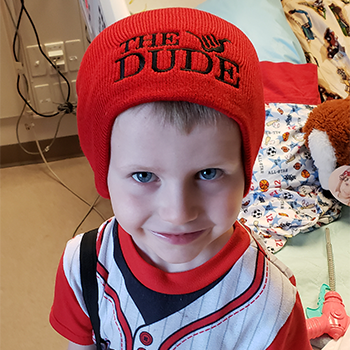 The family was also thankful for all of the amenities insurance doesn't cover, like coffee from the Family Resource Center, that made days in the hospital a little more manageable.
Since Andrew spent a lot of his early childhood at Children's, he also enjoyed some of the amenities as well. He spent time with one of the Minnesota Zoo Zoomobile, but his favorite was visiting Star Studio. He loved to play BINGO with The Dude, a character on Star Studio, and even won a "The Dude Hat," which he wore every day. Every time The Dude was performing live, Andrew tried to make it down to Star Studio to watch and participate in the shows.
"We always felt cared for and we always felt like we were the only patient there," said Beth. "The staff was always willing to listen to us in terms of sharing what worked best for Andrew for day to day things."
A bit of extra bravery needed
Not every day in the hospital was fun, though. Sometimes Andrew needed some extra bravery, like when Andrew's parents and care team struggled to get him to cooperate with basic daily procedures like IV flushes or medication, oral medication and changing bandages. He also had a difficult time urinating after a catheter was removed after an operation, or laying still for an x-ray.
In order to incentivize Andrew to cooperate, his family had an idea. They went shopping and his brothers picked out a few small items he might like, such as matchbox cars or small building sets. His family filled a brown paper bag with the toys and offered them as a reward any time Andrew cooperated with a procedure. They called the bag his "bravery bag."
After a few days of using the bravery bag, Andrew began to happily cooperate. His mother said that Andrew's cooperation transformation was incredible.
Unfortunately, Andrew's health took a turn for the worse after his final surgery. Andrew was admitted to the hospital for a two-week stay one last time. Beth remembered Andrew's care team rallying around their family. Two members of his care team, Jocelyn and Amy, really stood out to Beth as they took time to talk to Andrew and his parents, helping them make some tough decisions.
"At the end, Jocelyn was willing to sit with us as we navigated the unthinkable," Beth explained. Andrew's entire care team, including Dr. Vezmar and Dr. David Overman, helped the Dorsing family make decisions regarding Andrew's passing.
"We felt like they really fought for him and for us. I know talking about the loss of a patient is difficult for doctors. But I just want people to understand that the staff really do care, and they fight for their patients. I feel as if they feel Andrew's loss just like we do."
A silver lining in the worst situation
To honor Andrew's life, the Dorsing family wanted to provide tools to help parents navigate the toughest parts of hospital stays. To accomplish this, they came up with the idea to create Bravery Boxes based off of the bravery bag they used with Andrew. Being able to donate the boxes has been a path of healing for the Dorsing family.
"We know that by beginning [Andrew's Bravery Box], the work we do means that Andrew's memory will live on and that his legacy will be to help other children get through the tough parts of their hospital stay," Beth said. "It helps us to know that even though he is gone, his story will go on through the gifts that fill the Bravery Boxes."
Kaitlyn Kamleiter