Children's Minnesota, 3M partner with local companies on diversity, equity and inclusion summit
Diversity, equity and inclusion (DEI) leaders and champions from throughout the Twin Cities joined Children's Minnesota and 3M on Jan. 23 for the DEI Collective: Our Twin Cities Diversity, Equity, and Inclusion and Employee Resource Group/Network Partnership.
The theme for this event, held at the John Nasseff Conference Center, was Building an Inclusive Culture through Allyship. It brought together dozens of local executives, employee resource groups/networks (ERG/Ns), their executive sponsors, as well as DEI champions to discuss ways to advance DEI initiatives throughout the region. Invited companies included Target, Securian, Allianz, Best Buy, Blue Cross and Blue Shield of Minnesota, Andersen, General Mills, Medtronic and Land O'Lakes.
Children's participants included James Burroughs, chief equity and inclusion officer; Claudia Hines, senior director of clinical services; Sherry Franklin, staff RN; and Jennifer Soderholm, chief development officer and president of Children's Minnesota Foundation.
"I'm heartened by the fact that so many leaders took the time to support this important work happening in the DEI space," said Ann Anaya, chief diversity officer for 3M. "I'm excited that we can take so many of these best practices back to our companies. We know that having diversity and inclusion within our respective organizations provides a tremendous lift to all who engage with us, be it our employees or our customers."
Participants also shared their best practices for becoming stronger advocates for diverse and underrepresented employees during panel discussions and breakout sessions. This included strategies on how to retain and promote diverse employees, as well as ensuring that their voices are heard in the workplace.
"We want everyone who makes a living here in the Twin Cities and Minnesota to feel valued, respected and supported in their jobs," said James Burroughs, chief equity and inclusion officer at Children's.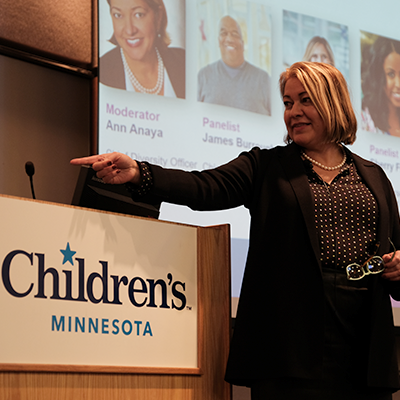 "There is much work to do when it comes to closing the opportunity gap and helping under-represented employees break through barriers. Summits like this bring about a healthy dialogue that we can use to share learnings and bolster our DEI efforts statewide."
Creating a diverse workforce, particularly among clinicians, is vital for Children's because of the diverse backgrounds of the communities we serve. Nearly 50 percent of Children's patients are people of color.
"We know having a diverse workplace cultivates deeper patient satisfaction, reduces health disparities and creates an engaging place to work," Burroughs said. "We strive to be every family's essential partner in raising healthier children, and to do this, we must address the disparities in our own hospitals and clinics."
Alexandra Rothstein