Dr. Marc Gorelick participates in the Minneapolis/St.Paul Business Journal annual health care panel
Dr. Marc Gorelick, president and CEO of Children's Minnesota, participated in a panel discussion moderated by Dirk DeYoung, editor of Minneapolis/St.Paul Business Journal (MSPBJ), to discuss what the future may bring to the health care industry in 2020. The event was attended by more than 400 guests from the local health care and business communities.
Dr. Gorelick was joined by top health care leaders: Dr. Bobbie Gostout, president of Mayo Clinic Health System; James Hereford, president and CEO of Fairview Health Services; Tom Lindquest, CEO of Allina Health Aetna; and Karl Ulfers, CEO of Rally Health, Inc.
The panel started with each speaker sharing their organization's top priorities in 2020, all of which prioritized the cost of care. Panelists spoke on the pressure from payers, consumers and the government to keep costs down and maintain a balanced budget. They described the major pressure points and shared a variety of solutions.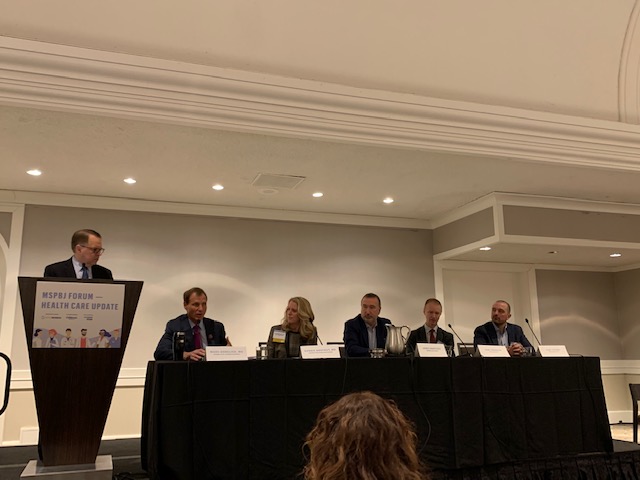 Affordability was also discussed as a major issue for insurers, as they face pressure to provide coverage that individuals and employers can feasibly pay while covering medical expenses that consumers expect. Panelists also talked about the rise of consumerism in health care, which is driving higher out-of-pocket spending and showcases the need for organizations to follow in the footsteps of other industries in order to make health care convenient and easier to navigate.
Dr. Gorelick focused on health equity and the need to ensure all children are receiving equitable care and outcomes. "Minnesota's white children rank fifth in the country for their health and well-being, but children of color in Minnesota score among the worst," Dr. Gorelick shared. "This is an issue of justice. Not something that just happens; we can and absolutely need to do something about it."
He went on to talk about the variety of programs that Children's Minnesota has implemented in an effort to combat health disparities throughout the system. This included internal efforts like changes in recruitment and retention efforts, implicit bias training, and patient facing efforts such as the implementation of the Community Connect and Health Legal Partnership programs.
Other topics addressed during the panel discussion include the lack of and need for mental health services, the need for digital transformation, and the impact the election could have on the health care industry.
Kaitlyn Kamleiter