Children's Minnesota neonatal nurse practitioner receives lifetime achievement award
Congratulations to Martha Dugan, APRN, CNP, neonatal nurse practitioner, who received big honors for her work with the tiniest patients. Martha was named the Lifetime Achievement winner in the 2019 Mpls.St.Paul Magazine "Outstanding Nurses" Awards. This is the eighth year of the Outstanding Nurses Awards, which honors nurses impacting their communities. Honorees were celebrated at a dinner in August and recently featured in Mpls.St.Paul Magazine. 
As a neonatal nurse practitioner (NNP), Martha works with families across Children's Minnesota, providing support to families of infants who are critically ill or who have chronic conditions. Martha is passionate about working with the delicate patient population of the neonatal program and finds amazement every day in what these tiny babies are capable of and the valiant efforts they make to strive for life.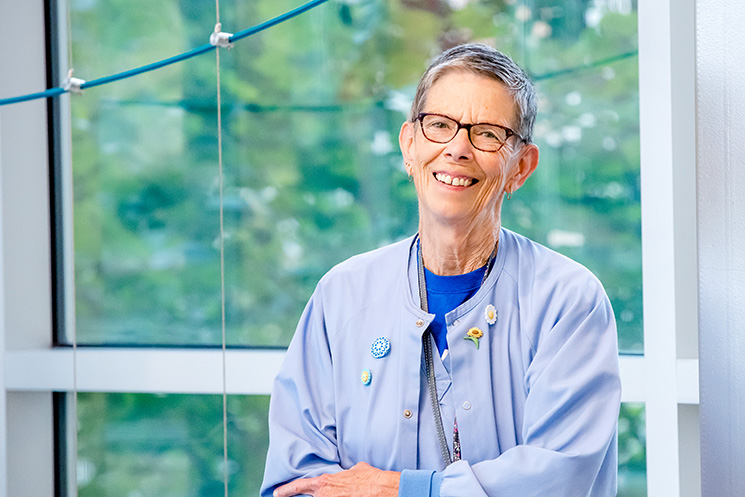 "Being a neonatal nurse practitioner is a gift. It is a privilege to participate in a highly skilled team that often affects the outcome of a baby's future," said Martha in the Mpls.St.Paul Magazine interview.
Martha is a widely respected expert in her field, and has been influential in shaping the nurse practitioner (NP) role at Children's Minnesota and in advancing the profession for NPs everywhere. When she started her career at Children's Minnesota in 1979, her role was very new and still not formally recognized by the state. In 1983, she took the very first neonatal nurse certification test. As the profession has evolved, Martha has been at the forefront of how NPs work with families, staff and clinicians at Children's Minnesota. Throughout her tenure, she has had a hand in developing procedural policies, conducting research studies and programs, and creating organizational policies around quality, safety and compliance.
Martha was a founding member of the Children's Minnesota neonatal transport team. Martha and the transport team members developed specific protocols for transporting babies who need specialized care to one of our neonatal intensive care units. There are different protocols to follow for each diagnosis, and Martha played a pivotal role in identifying these scenarios and how they would play out to make sure the baby has a safe transport to tertiary care. These guidelines have now been in place for several years and Martha's knowledge of current trends and news contributes to updates as we advance the transport team.
Martha has guided Children's Minnesota over the years through new advancements in technology to care for our patients and improve our practice. She has helped Children's Minnesota usher in changes in respiratory management, surgery, how we keep babies warm, and how we can ultimately improve their outcomes.
For Martha, every day and every family help her continue her education and growth as an NNP: "I believe that if we open our eyes and are perceptive to the cues on a daily basis, each and every baby will teach us something new."
Please join us in congratulating Martha, and all of this year's finalists from Children's Minnesota.
Kaitlyn Kamleiter