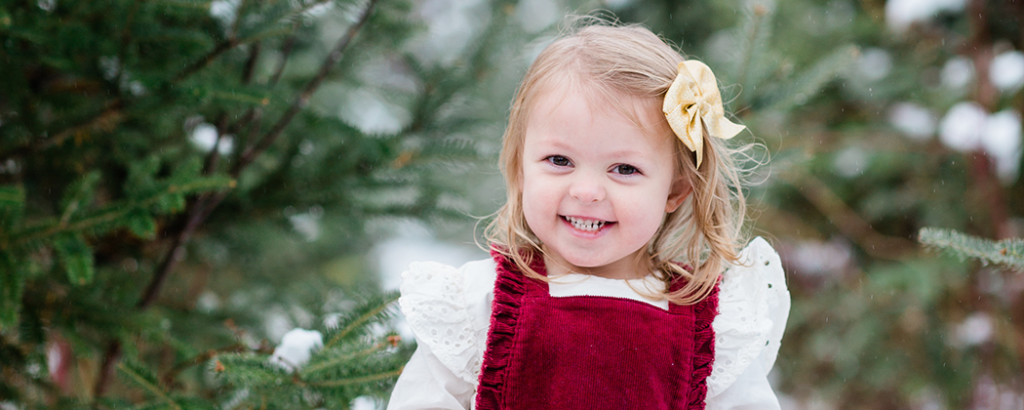 Mighty Margaret's heart journey: A look through the years
Margaret is living life to the fullest, being as mighty as she was when she had her first open heart surgery at just 5 months old. Today, she's a spunky, curious 3-year-old who is exploring the world around her, whether she's jumping around in the mud, helping her dad shovel after a heavy snowfall or swimming, 'just like Ariel' in the bathtub.
We first met Mighty Margaret in June of 2017 when she was preparing to have open heart surgery later that summer, and we caught up with her last year to see how she was doing. Now, we're checking in with Margaret and her family to see if she's feeling as mighty as ever.
"She is learning to be more confident and exploring the world around her with a little less hesitance than she did last year," said Michaela, Margaret's mom.
How Margaret became so mighty
In 2016, Michaela and her husband, Bill, were planning their new life with their first child, excited to be first-time parents. But when Michaela was 24 weeks pregnant, their baby was diagnosed with Tetralogy of Fallot with pulmonary atresia and major aortopulmonary collateral arteries (TOF/PA/MAPCAs), a rare congenital heart defect.
Suddenly, on top of planning for their first child, Michaela and Bill had to plan how they would care for a child with a heart defect. They made it through the rest of the pregnancy and on January, 5, 2017, Margaret was born.
Doctors were prepared to give Margaret a lot of extra support upon birth, but she surprised everyone by not needing supplementary oxygen and she even began nursing on her own just a few days after birth.
Margaret quickly showed people how truly mighty she was. After 44 days in the hospital, Margaret went home.
After leaving the hospital, Margaret hit some road bumps in her life. She has been diagnosed with pulmonary hypertension and a ventricular aneurysm. So far, Margaret has had five heart surgeries—three being open heart—and seven heart catheterizations.
However, those road bumps haven't stopped Mighty Margaret from continuing to fight and living her life to the fullest.
Margaret is social and loves to play with her friends. She is determined to be independent and puts that determination to many things she loves to do: feeding her pets, helping take care of her little brother and especially doing things around the kitchen.
"Margaret recently discovered she is tall and strong enough to open the fridge herself," said her mom. So, she really loves to help cook and bake.
However, when asked, Margaret's parents know her life isn't the same as a typical 3-year-old. "When she catches colds or other illnesses, they hit her so much harder than heart healthy kids."
School causes her parents extra worry than other parents because of the sicknesses that spread so quickly between little kids.
Mighty Margaret is truly a heart champion. During a heart catheterization last year, she was put back on one of her heart medications due to another pulmonary hemorrhage. Margaret's mom said, "Sometimes we see some typical 3-year-old attitude, but most of the time she's pretty compliant and takes them well."
Her feeding tube was removed in November, a great victory for Margaret and her family! After she had gone over a year and several heart procedures without relying on it, she was cleared to have it removed.
Margaret's experience at Children's Minnesota
Michaela and Bill have been cared for at Children's Minnesota since before Margaret's birth, and continue to receive care at Children's Minnesota as Margaret grows older.
"We have also been incredibly impressed with the quality of care that Margaret gets from the doctors at The [Children's] Heart Clinic," said Michaela. Whether they are at The Children's Heart Clinic or on the Cardiovascular floor at Children's Minnesota, they feel welcomed.
"We always see familiar faces who are so welcoming and they truly make difficult situations more bearable," said Margaret's mom.
Children's Minnesota Heart Clinic
At The Children's Heart Clinic, we provide comprehensive care for children and adolescents with heart and blood vessel conditions. Our goal is to understand the needs of our children and their families, and to provide the best care.
Children's Minnesota and The Children's Heart Clinic have partnered together for more than 40 years. Being a part of Children's Minnesota pediatric health system gives The Children's Heart Clinic more resources and access to specialists to provide the best possible care for your child.
Alexandra Rothstein