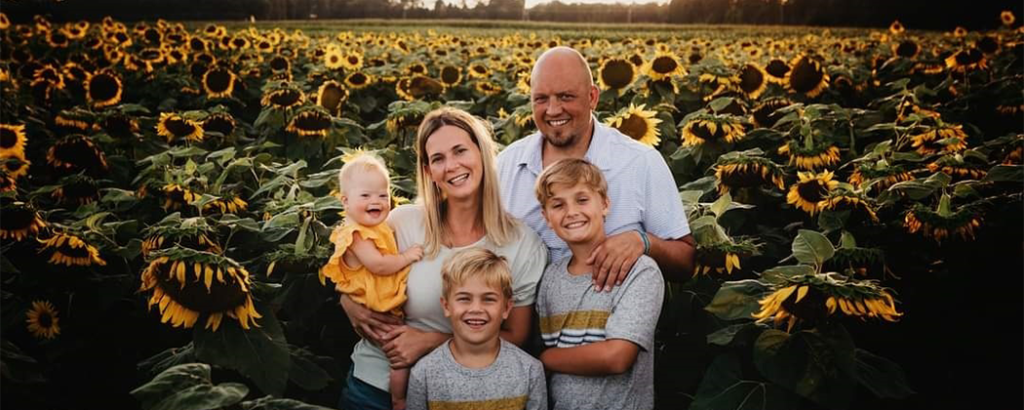 Born with Down syndrome and a heart condition: Tallulah's story of perseverance
Get an update on Tallulah!
In 2022, Tallulah is now 3 years old and going to preschool! After undergoing a spinal cord surgery at Children's Minnesota at only 2 years old, Tallulah is working hard at her weekly physical therapy to get back into the groove of walking. "She recently took her first unassisted steps," said Jamie, Tallulah's mom.
Tallulah loves to be outside and playing with her baby dolls. "She loves making art," said Jamie. "Cutting and gluing are her favorite."
But that's not the only thing Tallulah has been up to.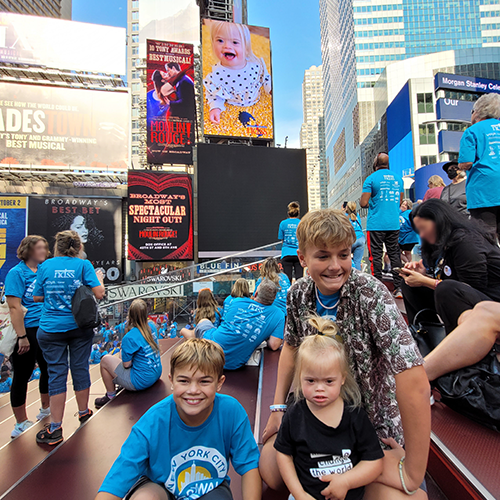 Something amazing has happened in the Big Apple! In September 2022, Tallulah was featured on the big screen in Times Square, New York, in an advertisement for the National Down Syndrome Society (NDSS).
Through an event by NDSS, individuals with Down syndrome can submit their photos. Approximately 3,000 entries get submitted and 500 get chosen to be featured in Times Square. And, Tallulah was one of them!
"This is a huge honor in the Down Syndrome Community," Jamie said. "We were ecstatic and decided to travel to New York City with our family to go see the video in person. We were overcome with pride when her picture appeared."
Their family spent time sight-seeing in New York, visiting all the amazing places and even saw a show on Broadway. Tallulah especially loved running across the Brooklyn Bridge on the pedestrian walkway.
Overall, seeing Tallulah on the big screen was the highlight of the trip. "It means so much to us that she was chosen to represent the amazing population of people with Down Syndrome," Jamie said.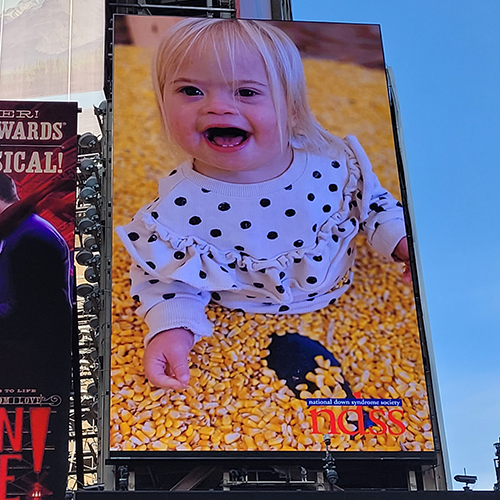 Jamie and her husband, Shaun, were ready to welcome a baby girl into the world after having two boys. Harrison, 10, and Lincoln, 6, were ecstatic to be getting another sibling to add to their family.
By their third pregnancy, Jamie and Shaun felt like they had this whole parenting thing nailed down. But during this pregnancy, things were different.
The Down syndrome diagnosis
At 13 weeks, Jamie and Shaun were told their baby girl had trisomy 21, also known as Down syndrome, a common genetic condition where a person's cells have an extra chromosome.
"In the moment, we were devastated." Jamie said describing the way they felt when they found out about their baby's diagnosis. Trying to come to terms with this news, they dialed their best friend. That's when things turned around.
Their best friend calmed them down and told them, "It's not the end of the world." In fact, their friend knew someone who worked for the Down Syndrome Association of Minnesota. They got in contact with the organization and that's when everything became clear – they got the support they needed.
"We had one bad day, then we moved on," Jamie said.
When Jamie went in for her regular 32-week appointment, the doctors found out their baby's growth had fallen off the charts. They planned to monitor her for 24 hours and administer steroids to develop the baby's lungs. The hope was to discharge Jamie after those 24 hours but with close monitoring until delivery.
The next morning Jamie couldn't go home. Their baby started showing signs of distress and she needed to deliver. Through an emergency C-section at 33 weeks gestation, Tallulah was born. She was born at 3 pounds, 9 ounces, breathing on her own and tolerating feedings through a feeding tube initially she was OK.
Down Syndrome and heart defects
Children born with Down syndrome are at a higher risk for certain medical challenges. About half of people with Down Syndrome have some type of heart defect. Which is why Tallulah had an echocardiogram at Children's Minnesota after her birth. Tallulah also started exhibiting some dramatic symptoms. She suddenly required oxygen support and her blood pressure became concerning.
That's when they knew something was wrong.
At just one week old, Jamie and Shaun were told Tallulah had a heart defect. Tallulah was diagnosed with coarctation of the aorta, which is a narrowing of the aorta. The aorta is the largest blood vessel in the body. This narrowing causes the left side of the heart to work harder to pump blood through the aorta to the rest of her body.
The heart people
After finding out about Tallulah's heart defect, Jamie and Shaun wanted to find the best people to care for her. They reached out to the Down syndrome community asking if people had recommendations for heart care.
They were quickly reassured they were already in the right place. Jamie said, "Connecting with other people through support groups, we heard they [Children's Minnesota] are the heart people."
Jamie and Shaun knew staying at Children's Minnesota was the right decision for Tallulah after the feedback they got.
"Tallulah's [coarctation of the aorta] was quite significant," said Jamie, "But not so significant that they had to rush her to surgery." They wanted Tallulah to gain weight and grow to 5.5 pounds. Once she made it to 5.5 pounds, they would need to do surgery to repair her heart defect.
Tallulah had her heart repaired by the team at Children's Minnesota at 3 weeks old. Surgery on premature babies is risky. Tallulah experienced a complication on her diaphragm that required an additional surgery. She persevered and fully recovered from both surgeries.
She then spent seven weeks at Children's Minnesota learning how to feed orally. Tallulah spent a total of 87 days at Children's Minnesota. She continues to follow up with three specialties and work with physical therapy.
"We're eternally grateful for the care they gave us," said Tallulah's mom. "The fact that she had Down syndrome didn't matter to anyone at Children's, they gave her whatever she needed."
Tallulah at 2
In 2020, Tallulah was 2 years old and had received tubes for hearing loss, plus received therapy that taught her how to eat by mouth. She also worked on developing gross motor skills.
"She's so interactive—she's got a baby doll that she tries to feed, she loves the family dog, she loves to be around people," commented Jamie. "Tallulah loves when people talk to her. She discovered her voice and babbles back."
Tallulah's family is living life like they did before she was born. They were an active family before in sports and camping and plan to continue to stay that way.
"Now that her heart has been repaired, I don't think life is all that much different from when our boys were born," Jamie said. "We believe Tallulah is a gift to our family. We love her very much."
Alexandra Rothstein