From cardiac patient to Star Studio star: Michael's heart health journey
Michael started his Children's Minnesota journey on Oct. 15, 2000 – the day he was born. To this day, at 19 years old, Michael still gets excited when he gets to stay overnight at Children's Minnesota, even when he's being monitored for health issues.
"Michael is always treated like a king when he's at Children's Minnesota and he loves it there," said Liz, Michael's mom.
Liz delivered Michael during an emergency C-section and they were transported to Children's Minnesota immediately after birth. Michael was born with many heart issues. He had pleural effusions caused by a rare heart defect called Ebstein Anomaly that affects the tricuspid valve and involves multiple holes in his heart. Michael stayed in the neonatal intensive care unit (NICU) for two weeks until he was sent home with oxygen and a feeding tube.
"It was terrifying," Liz said. "But, we knew right away that we were in the right place for Michael to receive the best possible care."
Their appointments at The Children's Heart Clinic turned from constant, to regular, to simply having one yearly appointment.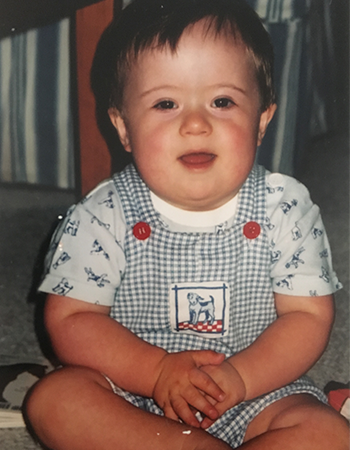 When Michael was 12 years old, his parents, Liz and Paul, started noticing some symptoms of heart issues: excessive sweating, tiring easily and bluish fingers. At the same time, Michael's cardiologist told them about a new procedure to repair the tricuspid valve. They trusted the cardiologist and surgeon to go ahead and the surgery was a great success.
Michael had a variety of complications after surgery.
He had a heart block that would require a pacemaker to help Michael's heart beat properly. In order to address Michael's issues, their family had many follow-up appointments that sometimes lead to Michael being admitted back into the hospital.
But throughout all these complications and hospital stays, Michael's positive attitude never wavered.
"I remember after he had his heart surgery, there were times when we'd go in for a follow-up and he'd have to be admitted," said Michael's mom. "He would be disappointed if he didn't get to stay overnight."
The Children's Minnesota experience that made a difference
When Michael would be at Children's Minnesota, he was never short of visitors. "A number of staff members who had cared for him previously would come check up on him and ask him how he's doing," said Liz. "It's amazing when you think about the number of patients they have and they still remember him and truly care about him."
Michael loved the visits from his nurses and his cardiovascular care team, however, he especially loved the in-house TV studio, Star Studio. The host of the show, The Dude, brought so many smiles to Michael – and continues to do so today.
Continuing their love for Children's Minnesota
Michael was born with a natural love for performing and entertainment. "He has a great sense of humor, he's constantly seeking connections with others," said Michael's mom. "He thrives on movement and loves to dance."
Because Michael has spent so much time at Children's Minnesota, he has gotten to know the Star Studio cast very well, and oftentimes ends up on the show, both during inpatient stays and while volunteering.
Today, Michael volunteers with his mom during Star Studio Bingo. Michael helps hand out bingo cards to patients. Michael knows what it's like to be a patient, so he loves visiting patients and bringing them the fun of Star Studio.
Michael's mom said, "It's such a good experience for him. He enjoys saying hi to patients and every interaction he has with The Dude. When we volunteer, he gets to see some staff that he knows. He has also has been greeted by families that have seen him on Star Studio. Michael refers to the CVCC on the 4th floor as 'my floor.'"
Michael's family has a special place in their heart for Children's Minnesota. Not only are his parents grateful for the support and care they've been given, Michael's older sister is now an intern at Children's Minnesota, working in the psychology department.
When asked about her experience at Children's Minnesota, Liz, Michael's mom, can't express her appreciation enough.
"All these scary things have happened to us," said Liz. "But I knew once we got to Children's [Minnesota], we'd be OK. We're always being saved by Children's Minnesota."
Alexandra Rothstein