Celebrating Child Life Month at Children's Minnesota
Long hospital stays can be challenging and stressful for kids and their families. But, the good news is there are people specially trained to help kids understand their medical care and minimize stress throughout the process.
What is a child life specialist?
Trained in child development, child life professionals are part of the patient's interdisciplinary care team. They partner with the patient and family, including siblings, to foster a positive and supportive care experience. Child life professionals at Children's Minnesota work closely with children to help understand their medical care and minimize stress through a variety of evidence-based techniques.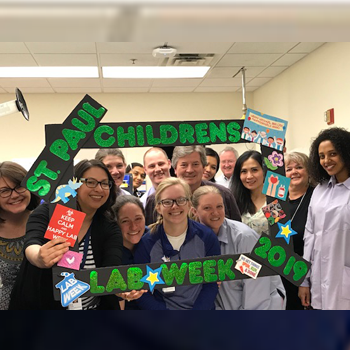 "Child life specialists work alongside nurses, physicians and the rest of the care team with patients and their families to really focus on how kids are understanding, processing and coping with their health care experiences," said Rachel Calvert, child life manager at Children's Minnesota.
We can't count on one hand the amount of different ways our child life professionals positively impact our patients and families at Children's Minnesota. Each role in the child life department provides a specific focus.
How do child life specialists help patients and their families?
Certified child life specialists engage with patients and family members in the following clinical interventions focused on their psychosocial and emotional needs around:
Teaching: Developmentally appropriate information about new diagnoses, body systems teaching, new tubes/lines.
Psychological preparation: Admission, procedures, transitions/discharge.
Procedural support: Create coping plans, provide distraction, encourage parental support and comfort measures.
Developmental stimulation: Normalization of experiences, sensory/cognitive stimulation, physical activity.
Anxiety and symptom management: Pain, non-pharmacological coping strategies, relaxation.
Emotional support: Processing of hospitalization/illness, therapeutic interventions, self- expression.
Compliance: Increase adherence to treatment plan, med taking strategies.
Family support: Parental education around helping their children with healthcare related concerns, patient/family bonding, emotional support.
Sibling support: Education and support regarding patient's diagnosis and hospitalization.
End-of-life-care: Memory making, legacy building, bereavement support.
"So, right now at Children's Minnesota, a child life specialist is most likely in a patient room helping them with an IV start, teaching them about what that process is like, teaching them coping strategies so it's not so scary and helping them really master that experience," Rachel said.
Child life associates ensure children have opportunities to continue to develop and engage in play throughout the hospital. They offer 1:1 activities at bedside, facilitate group and socialization activities and partner with other departments around special events provided to patients and families.
Our healing arts coordinator organizes a variety of creative arts opportunities that assist in the healing process and enhance the overall healthcare experience for our patients and families. gathered during the last decade demonstrates that art programs can make a positive contribution to health outcomes, patient safety, and the overall quality of the healthcare experience for patients, families, and staff.
The Children's Minnesota child life department relies on donations to continue to care for our patients and families. If you would like to donate to the most amazing people on earth – kids, click here.
Alexandra Rothstein