Six tips for trampoline safety
Kids have amazing imaginations. Sometimes they want to pretend they're an astronaut floating in zero gravity, or a superhero who can fly. So, it's no wonder that they find trampolines so fun.
Though trampolines can be a source of backyard fun and exercise, children are at risk for broken bones, muscle sprains or strains, bruises, and most significantly, head and neck injuries.
Falling off trampolines, running into others jumping at the same time, or failing to land a new trick or stunt can change a child's life in an instant. Know the signs of a head or neck injury and the signs of a concussion before allowing children to play.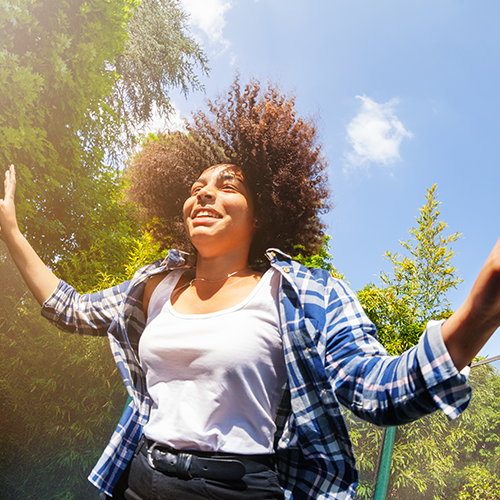 Tips to maintain a safe trampoline environment
Supervise your children at all times.
Allow only one jumper on the trampoline at a time.
No somersaults or stunts.
Check all equipment often.
Make sure the trampoline's protective padding is in good condition and is appropriately placed.
When damaged, protective padding, the net enclosure, and any other parts should be repaired or replaced.
It's also important to consider insurance coverage for your home that contains proper coverage for trampolines, particularly if visitors and friends are using your equipment. Check with your property insurance provider if you have questions.
Children's Minnesota emergency care
At Children's Minnesota, we have approximately 90,000 visits to our emergency rooms each year. In fact, we care for more pediatric emergency and trauma patients than any other health care system in our region.
If your child takes a tumble on a trampoline and needs emergency care, visit one of our emergency departments in Minneapolis or St. Paul. If it is an emergency, please call 9-1-1.
Alexandra Rothstein