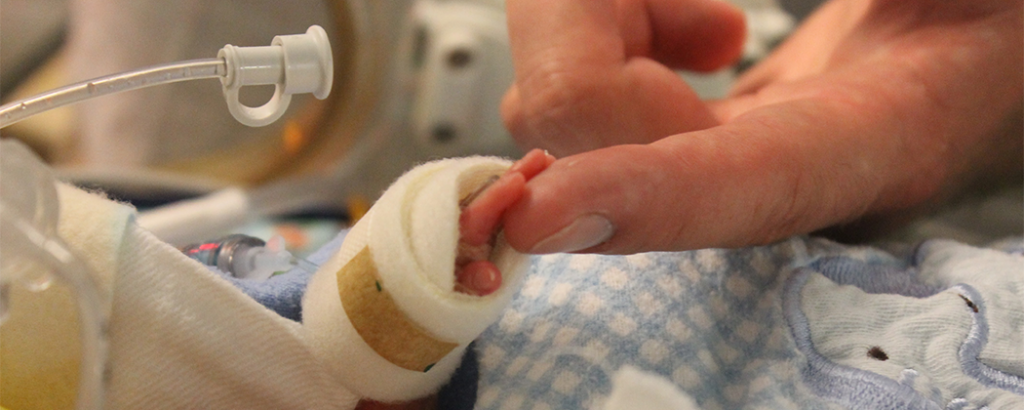 Real life or a movie? Marshall's birth story
Looking at Marshall Keller today, you would never expect that the story of his birth could easily be turned into a movie script.
It all started with Misty Keller's visit to The Mother Baby Center because her cervix began to open far too early in her pregnancy. After she received a cerclage (a cervical stitch) and a short stay in the hospital to ensure she and her baby were okay, she was then sent on her way. But unfortunately, less than 24 hours after going home, Misty's water broke, sending her rushing back to the hospital.
The unfortunate events didn't stop there. While driving to the hospital, after an already chaotic week, another car ran a red light, broadsiding the Keller's car in an intersection only half a mile away from the hospital. The other car hit only about 4 feet from where Misty was sitting in their car.
A short ambulance drive brought Misty to the hospital, where she settled in, hoping for a long stay. But Marshall had other plans. Just two days later, Misty would be wheeled into surgery where her little miracle baby would officially enter the world.
Marshall entered the world at just 1 pound 7 ounces after only 23 weeks and 4 days gestation. His birth was truly one of the scariest days of his parents' lives, but they felt a little more at ease knowing that they were at the best place possible: Children's Minnesota.
"We also knew we were in for the ride of our life, but nothing can prepare you for the rollercoaster that is the NICU [neonatal intensive care unit]," said Misty.
Throughout his 138 days in the NICU, Marshall endured several challenges and health issues. But he was born ready to take on these challenges. Marshall required oxygen support through many different interventions for his entire hospital stay because of the various lung conditions he had related to his prematurity.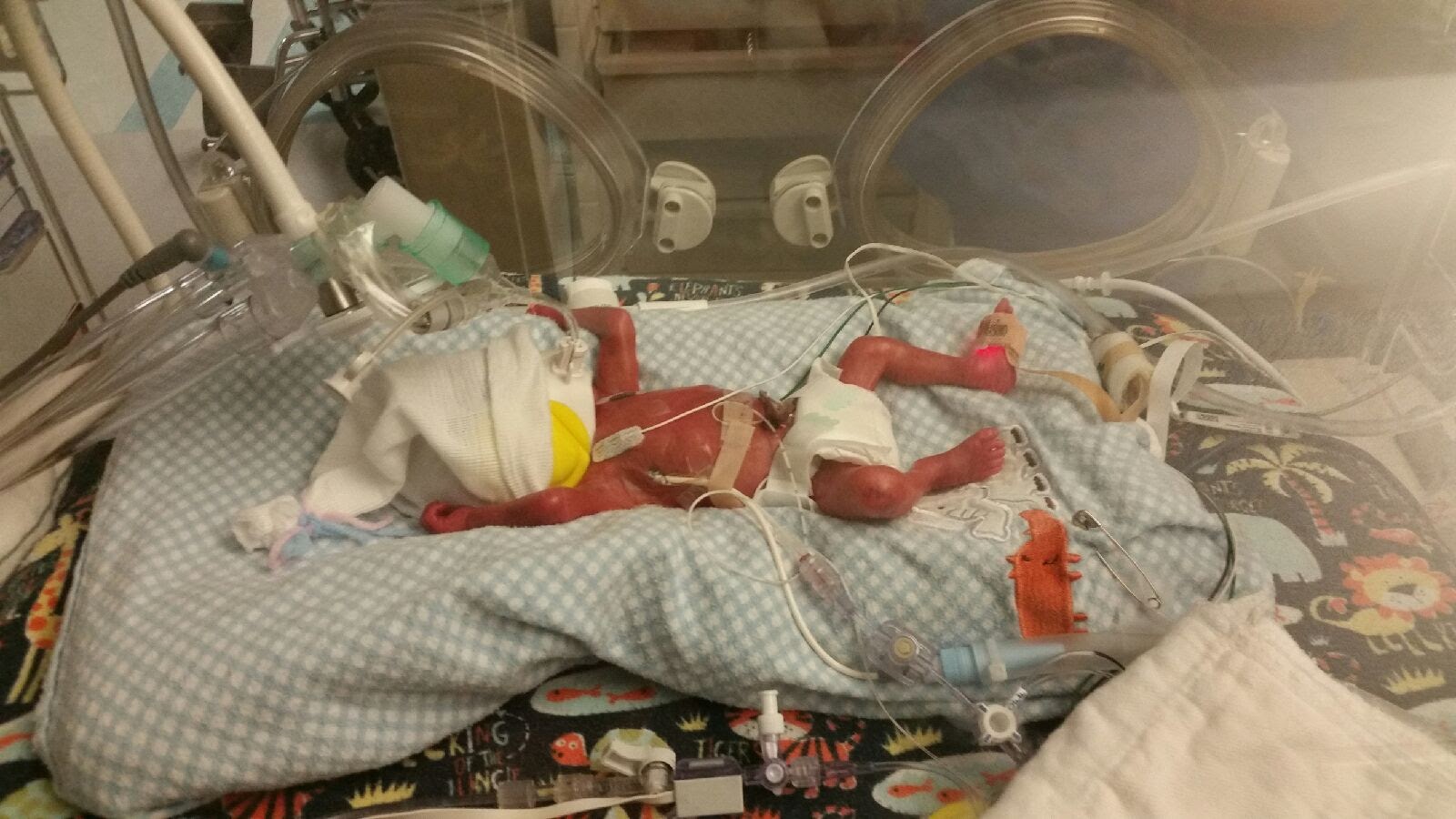 "The hospital became our second home and the nurses and doctors became part of our family," said Misty. "They were there for all of us when we needed them the most and shared in the high of the highs and low of the lows."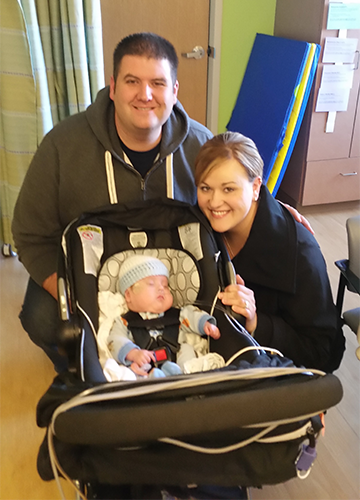 Because of this relationship with the staff at Children's Minnesota, Misty was confident that her son was well cared for, even when she could not be by his side. She knew that his care team looked after him as if he was their baby.
In the early weeks after Marshall entered the world, he had a particularly challenging day with is health. One of his doctors stopped by Marshall's room on her way home for the day to talk with the family, and did not leave until she explained everything, in a way that the Keller family could understand. The compassion that the doctor, and everyone on the care team exhibited, will be something Misty will never forget.
Bringing Marshall home
The Saturday morning after Thanksgiving, the Keller family went to the hospital, not knowing they were going to get the best news of their lives. Misty recalled Marshall's doctor coming into his room and saying "Well, I told you my goal was to get Marshall out of the hospital before my round was over and today is the day!"
Misty could only describe bringing Marshall home from the hospital as nerve wracking. They were so excited to bring him home so they could finally be a family all under the same roof.
Now at 5 and a half years old, Marshall continues to thrive, and amazes his family each and every day. Misty described the latest with their curious, growing child: "He's excited (and a little nervous) to be starting kindergarten this fall! He loves game shows, plus is a fan of playing golf, cooking, race cars, swimming and sledding. He loves to read, and all things numbers—he is even doing basic math problems!"
Virtual Walk for Amazing
This year will be the Keller family's fourth year participating in Walk for Amazing. Even though the event will be virtual this year, they are so excited to get moving and support Children's Minnesota.
"We encourage everyone to participate and give back to an amazing hospital that does so much for the children in our community and their parents in difficult times," Misty said. "We hope by sharing our story that others will be inspired to join the event or donate to such a wonderful organization that has touched so many lives and helped miracles like our son come home."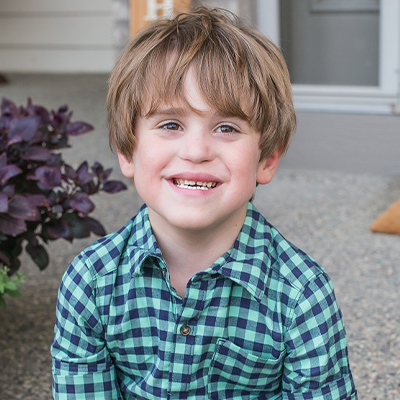 Walk with us — virtually! — and make a difference for Minnesota kids
Walk for Amazing is still on. But instead of meeting up at U.S. Bank Stadium, we'll rally our families at home. You're invited to walk, play, climb, dance — whatever gets your heart pumping — and raise money for Children's Minnesota.
Now more than ever, in the midst of the COVID-19 crisis, Children's Minnesota is relying on the support of the community to continue to deliver a special kind of kid-focused care, safely and effectively.
Kaitlyn Kamleiter