Amidst a pandemic: A seamless visit to emergency department
Brady Gervais considers herself very lucky to have two healthy little boys: A 3-year old and a 6-month-old. But she knows better than anyone that accidents can and do happen when you have kids—even amidst a pandemic.
A quiet night turns to panic
One night in May, 3-year-old Gene Gervais fell off the couch while playing and landed on a toy firetruck. Like all kids, Gene was resilient. He only let out a brief cry before declaring he was OK and popping right back up. But Gene didn't seem OK to his mom; he had cut his head and there was blood on the floor and on his pajamas.
Knowing that head wounds can often cause a lot of bleeding, Gene's dad, Ben, shaved around the cut to get a closer look at how bad it was.
After getting a closer look at Gene's head, Brady and Ben were unsure whether he needed medical care. Brady texted a colleague who encouraged her to take Gene to Children's Minnesota. As a Children's Minnesota employee, Brady knew that she and her son would be in good hands and that care teams would take every precaution to keep them safe.
Visiting the emergency department
Brady works as a development officer at Children's Minnesota and often talks to donors about the wrap around care services offered families. That night, Brady was able to experience first hand the difference these services make.
After arriving to the ED, Gene and Brady were visited by a child life specialist, who helped Gene understand how his cut would first be cleaned and then fixed with stitches. The child life specialist and the emergency medical technician (EMT) distracted him with squishy balls, and they gave him a popsicle to further distract him as the provider started the stitches. These may seem like small things, said Brady, but they make a world of difference to a toddler!
While these were Gene's first stitches, Brady is sure they won't be his last! But with the distractions and expert care he received, he didn't even flinch! The procedure was seamless and painless, ensuring that Gene won't be scared to go to a hospital next time he needs help.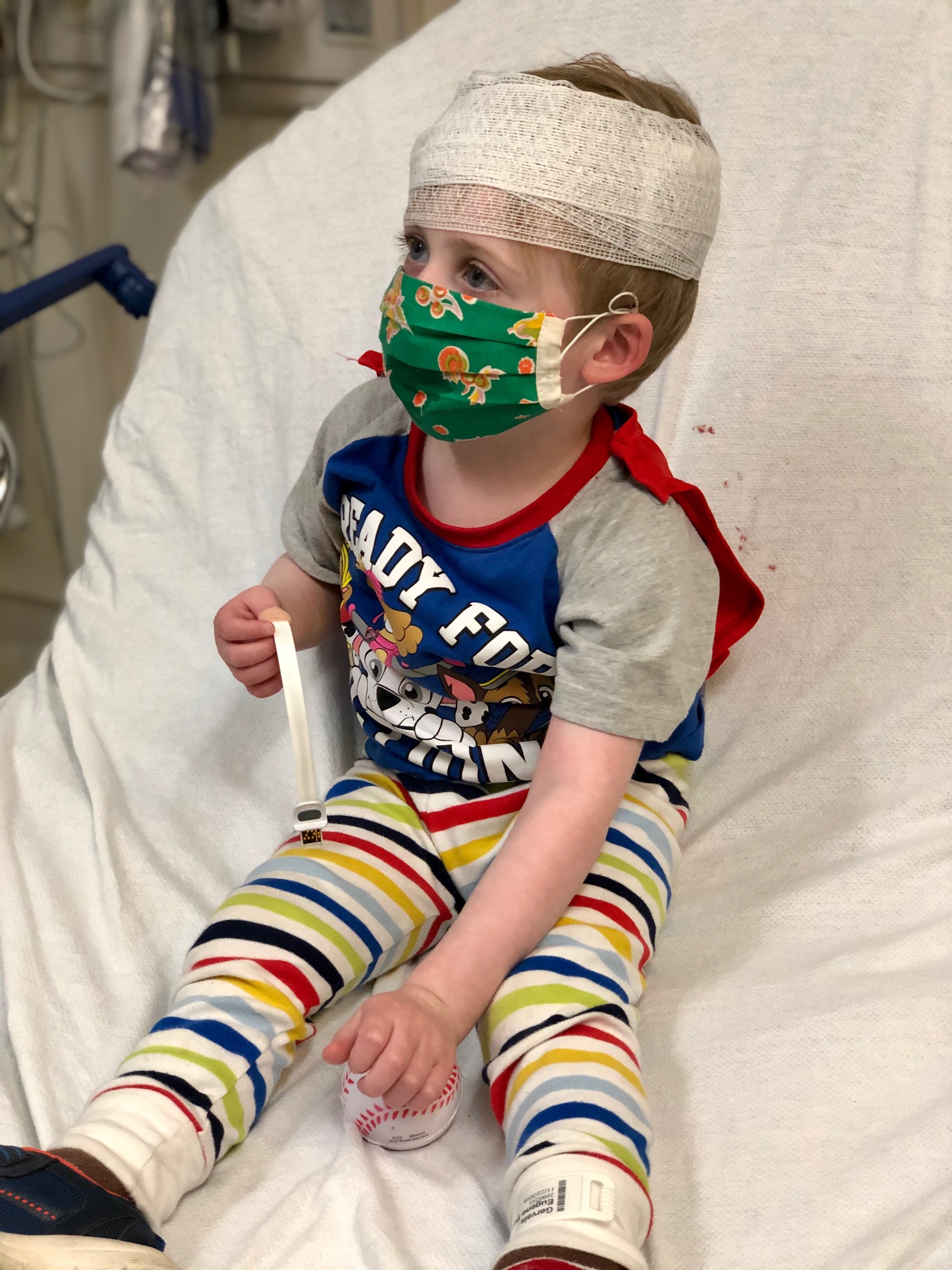 This wasn't the first time the Gervais family has been to Children's Minnesota. From Gene's eye infection when he was 10 days old, to shingles at age 2, to all of the primary care and well-child check-ups that kids need to grow up healthy and strong, the Gervais family trusts Children's Minnesota to provide the care their sons need.
"I'm grateful to have two healthy boys—and a pediatric health care system like Children's Minnesota in our back yard."
Kaitlyn Kamleiter