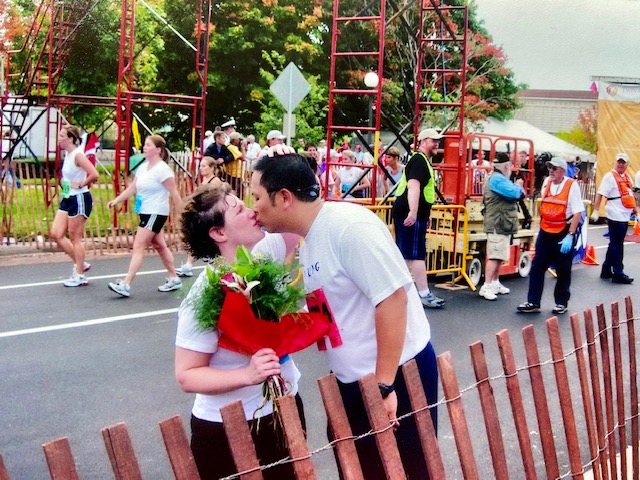 Love at the finish line: A Team Superstars love story
Natalie Lu, quality and patient safety coach at Children's Minnesota, is one of Children's Minnesota's Team Superstars charity athletes going the distance this year and virtually completing the TC 10-Mile this fall.
Her connection with this race goes beyond her running goals. In October of 2005, Natalie and her then boyfriend, Yung Lu, set out to run their seventh endurance race together. What began as just another race for the couple, ended as a life-changing surprise for Natalie. Shortly after crossing the finish line, Yung got down on one knee and asked Natalie for her hand in marriage.
A moment and memory to last a life time!
Natalie shares her story to help inspire others to donate to her fundraising efforts for Children's Minnesota.
"You may recall my hubby's 'breathless proposal' some 15 years ago at this event. I'd be grateful for your support of the place that put us on each other's' paths at a time when the world is fighting a pandemic and upholding health and healing every step of the way. There's no place I'd rather work or bring my own child for care, and your support of any type or amount will help ensure critical services in a time of increased need."
Children's Minnesota holds a special place in Natalie's heart. Not only has she been a part of the organization for over 17 years, but it's where she met her husband. Today, Natalie is celebrating two passions in her life by training for the TC 10 Mile and fundraising for the Child and Family Services program at Children's Minnesota.
Training for an endurance race is hard enough, but finding out your event has gone from a live event to a virtual platform presents even new challenges. Like many events around the country, the COVID-19 pandemic has forced leaders of the Medtronic Twin Cities Marathon weekend to cancel all race activities and host all races virtually.
Support or join Team Superstars
Our Team Superstar athletes are nothing short of amazing! This change hasn't stopped these runners from honoring their commitment to raise funds and support for the most amazing people on Earth – kids!
Click here to support athletes like Natalie.
Join Team Superstars
When you join Team Superstars, our charity team of athletes, you go the extra mile. You commit to raising money in support of vital programs for Children's Minnesota, and you take on the challenge of participating in local, regional and national races.
Team Superstars athletes receive exclusive branded apparel for the race,  a personal fundraising website along with fundraising coaching, and an invitation to a team reception. Learn more about Team Superstars »
Alexandra Rothstein