Children's Minnesota employees gifted hijabs during Muslim holiday celebrations
For the last two years, the Children's Minnesota Muslim employee resource group (ERG) held in-person celebrations for significant Muslim holidays such as Ramadan and Eid-al-Adha. In the past, the communal nature of the holidays was felt and heard as colleagues and members of the community joined together to break fast during Ramadan, and learn from and celebrate with each other. However, due to the COVID-19 pandemic, these events looked a little different this year.
Despite the cancellations of the larger in-person events, the Muslim ERG was eager to find a way to bring people together. And bring people together they did, through their partnership with local business Henna & Hijabs (H&H), creating Children's Minnesota-branded hijabs, which were then offered to employees.
"We weren't able to celebrate as we had in previous years and we wanted to find a way to make the celebration special," said Dr. Samreen Vora, MHAM, FACEP, medical director of simulation, emergency medicine physician and member of the Muslim ERG. "We felt that gifting Children's Minnesota-branded hijabs during the holidays would bring the sense of community and collectiveness during a time of social distancing, while also supporting a local Muslim entrepreneur."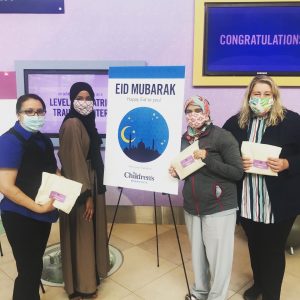 Henna & Hijabs is a Minnesota-based company, owned and operated by Hilal Ibrahim. Hijabs from H&H are each hand-cut and handmade from locally-sourced materials. The hijabs provided to Children's Minnesota were specifically made with infection prevention and the health care environment in mind.
"When a Muslim chooses to wear a hijab, it's a big part of their identity and it's not something they can just compromise on," said Dr. Vora. "Being in a health care workplace, it's challenging to find hijabs for employees as it's not the mainstream, and when it comes to the materials, it's important to ensure infection prevention and safety for staff and for patients; we saw this need and Henna & Hijabs helped make it a reality."
Alexandra Rothstein