Elzie's story: Labored breathing brings new family to Children's Minnesota
In 2018, Jordan and her husband, Jaare, were so excited to be first-time parents and couldn't wait to have their new baby, Elzie, in their lives. Elzie came three weeks early but other than that, he was perfectly healthy at birth.
Elzie's labored breathing
When Elzie was only 5 weeks old, Jordan and Jaare noticed his breathing was labored. Although they were new parents, they knew something wasn't right. They called a nurse line to see what to do. The nurse told them to bring Elzie to their local emergency room (ER) which is exactly what they did. After several tests, they were told Elzie had respiratory syncytial virus, or RSV.
"I knew RSV was bad in babies, but they sent us home that night as his vitals were doing good," said Jordan.
The next day as they watched his breathing; they noticed it was labored again. Jordan and Jaare took Elzie back to the emergency room where they would stay overnight for monitoring. The next morning, they were sent home because his breathing seemed better. But, the ER told them to make a follow-up appointment with their pediatrician.
Then Jordan and Jaare met with their pediatrician. With one look, she said, "We have to send you to Children's Minnesota." The pediatrician told them Elzie's breathing was extremely labored and they needed to go now — she even had an ambulance waiting outside for them.
"I remember hearing about Children's [Minnesota] prior to Elzie and always thought that's where you go when your child is in dire need," said Jordan. "Little did we know, that's exactly where Elzie needed to go."
Elzie's experience at Children's Minnesota
They were quickly comforted by the staff. "The staff was beyond incredible and eased all those emotions," said Jordan. "They knew exactly what Elzie needed and had every piece of faith in him to recover."
After six days at Children's Minnesota, Elzie was discharged because he was healthy enough to go home.
Jordan and Jaare made a pact after leaving. "When we got discharged, Jaare and I both agreed that we would always give back to Children's Minnesota and eventually get our kids involved to show them how important it is to give back to something that means so much to us."
That's exactly what they did.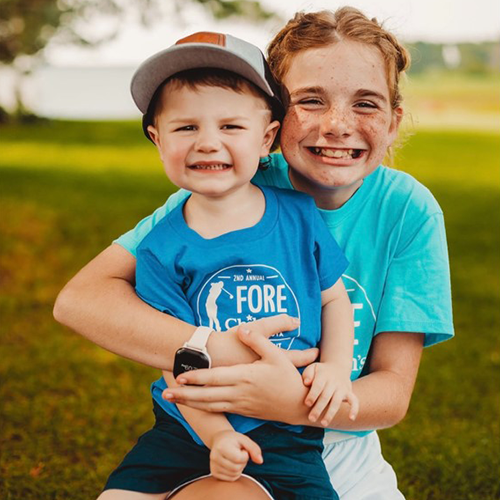 Elzie's family gives back
In November 2019, Elzie's family raised over $780 for Children's Minnesota and donated 50 tie blankets to the hospitals. However, they didn't stop there. To continue giving back to Children's Minnesota, Jordan and Jaare are started the annual "Fore Children's Minnesota Golf Tournament" in 2020.
Elzie's parents are forever grateful for the care they received at Children's Minnesota.
When asked about their experience, Jordan said, "We can't thank Children's [Minnesota] enough for what they did for Elzie and how they made us as first-time parents feel so calm throughout the whole process."
Fore Children's Minnesota Golf Tournament
In 2020, Jordan and Jaare's first annual golf tournament supporting Children's Minnesota raised over $18,000! In 2021, they held their second annual tournament at CreeksBend Golf Course in New Prague, Minnesota, and they raised over $21,000 for Children's Minnesota!
You can find information about the "Fore Children's Minnesota Golf Tournament" on their Facebook event page.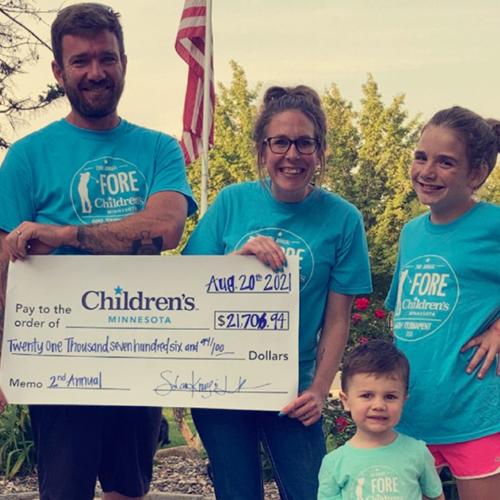 Give to Children's Minnesota
When you donate to Children's Minnesota, you make possible the most extraordinary care. Fetal surgery. Heart transplants. Innovative cancer treatments. Your donations also make possible the vital wraparound care — support services, financial help, sibling play areas — that help families cope with hard times. As a nonprofit, we rely on the generosity of people like you to make it all possible. Learn more and donate here.
Alexandra Rothstein