5 tips for healthy eating with your children
When families get busy—especially as kids prepare to start school in the fall—it's easy to let things take priority over healthy eating and purposeful exercise. But it's important for families to work together to be as healthy as they can be so kids can grow up strong and make good health decisions in the future.
Dr. Natalie Rigelman-Hedberg, a pediatrician at Metropolitan Pediatric Specialists, shares five tips to help your family get in good eating habits.
Plan family meals
Family meals are a comforting ritual for parents and kids. But did you know? Kids who take part in family meals are more likely to eat fruits, vegetables and healthy grains, and are less likely to snack on unhealthy foods. Try to be flexible with family meal times. You may have to eat dinner a little later to accommodate busy teens, or you might have to set aside weekend time to have brunch together.
Beyond planning family meal times, Dr. Rigelman-Hedberg recommends that families plan snack time in advance: "During this unusual time when we are all spending more time in our homes, it can be tempting to snack and graze all day. Remember: A routine of three meals and two healthy snacks per day is best."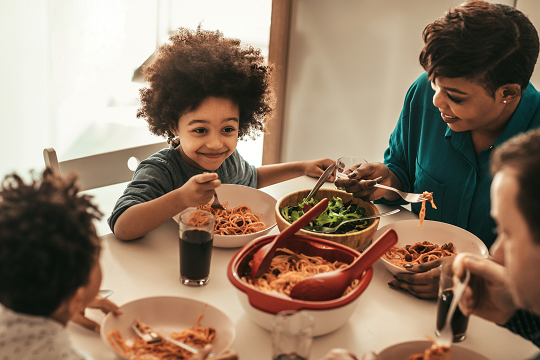 You can also consider identifying set times when the kitchen will and will not be open. During the times in which your kitchen is "open," try to make sure fresh fruits and veggies are easily accessible.
Stock up on healthy foods
Kids, especially young kids, will mostly eat what is available at home. That's why it's important to grocery shop mindfully and make sure you have easy, healthy snacks on hand. Here are some guidelines you can follow:
Make it easy to choose healthy snacks by keeping nutritious snacks on hand and ready to eat. Some great options include fruits, vegetables, low-fat yogurt, peanut butter and celery, and whole grain crackers with cheese.
Serve lean meats and protein with meals, including fish, eggs, beans or nuts.
Choose whole-grain breads, cereals and crackers because they're a good source of fiber.
Limit fat intake by avoiding fried foods. Try using healthier cooking methods like broiling, grilling, roasting and steaming. You should also choose low-fat or nonfat dairy products.
Limit fast food and low-nutrition snacks like chips and candy. But don't completely ban these foods! That can lead to binging or overindulgence later on. Treats are OK!
Limit sugary drinks like soda and fruit-flavored drinks. Try to focus on water or low-fat milk. Save juice for an occasional treat rather than a frequent drink.
Be a role model
The best way to encourage healthy eating is to eat well yourself. Kids will follow the lead of the adults they see every day. So, make sure to eat your fruits and veggies and avoid overindulging on treats to send the right message.
But it's not just what you eat that kids will follow. It's also important to be mindful of how you talk about food. Talk to your kids about portions and feeling full—remind them to listen to their bodies so they know when to be done eating. Similarly, remind kids that they should eat when their body tells them they are hungry. Parents who are always dieting or complaining about their bodies can send the wrong message.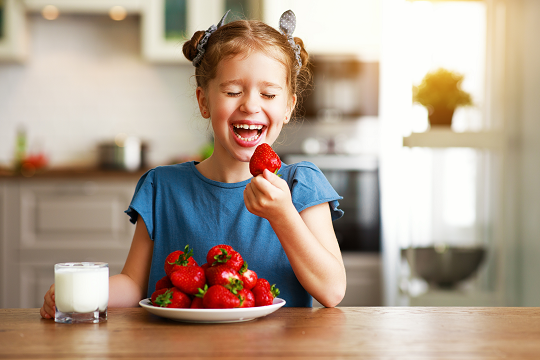 Don't battle over food
Food can easily become a source of conflict. You may want to bargain with or bribe kids to eat healthy or new foods. Here are some tips to avoid food battles:
Establish a predictable meal and snack schedule.
Don't force kids to eat everything that is on their plate if they are full.
Don't bribe or reward kids with food.
Don't use food as a way to show love.
Get kids involved
Many kids will enjoy deciding what to make for dinner—talk with them about making choices and planning a balanced meal. They may even want to help shop for ingredients or prepare the meal. This can help kids learn to make healthier choices about food. Changes won't be immediate, but they can help lead to a lifetime of healthy choices!
Healthy eating is an important part of helping kids grow big and strong. But changing eating habits isn't easy! Whether your child is a picky eater or resistant to change, your pediatrician is here to help. Talk to your provider if you need extra help ensuring your kiddos get all of the nutrients they need.
Kaitlyn Kamleiter