Resilience and hope: Grayson's fight against leukemia
In spring of 2019, Grayson, who was born with Down syndrome, began experiencing symptoms of pneumonia. It was then that his mom, Sandy, brought him in for a round of blood work. When they received the results, they noticed some abnormalities.
"His numbers were reading beyond or different than just pneumonia," said Sandy.
The abnormal results led to additional testing to determine whether or not Grayson had leukemia. After repeated blood tests, Sandy and Grayson's care team felt strongly that doing a bone marrow test would be the best and most definitive test for what would end up being Grayson's diagnosis of acute lymphoblastic leukemia (ALL). Sandy received this news on July 5, 2019.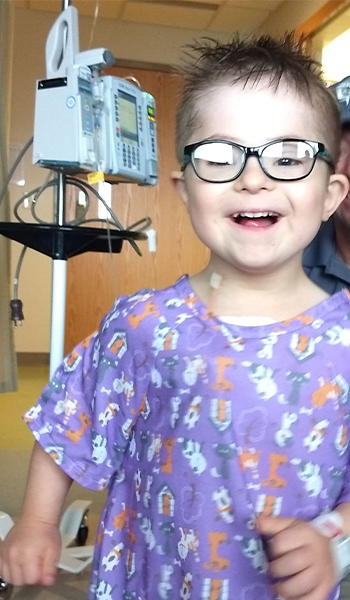 "It was extremely overwhelming to hear he had leukemia," said Sandy. "But we were so quickly reassured that he isn't the first and there's definitely a process. And I felt pretty hopeful from the beginning that yes, this is what he has, but we're going to conquer it."
For families who may be going through a similar diagnosis, Sandy shares words of encouragement: Know you're in good hands at Children's Minnesota.
A reassuring roadmap
Immediately after receiving Grayson's diagnosis, his family was provided with everything they needed to move forward with treatment. They were told to prepare for three years of treatment, broken down into stages with step-by-step instructions when it came to connecting with his care team, learning about what medications he would need and how his body would react throughout.
"That's something I felt has been so amazing. For something so unknown, the treatment plan we were given was such a clear roadmap," said Sandy. "They had a plan no matter what we asked them. If this happened, then this is how they were going to adjust; and if this happened, this is how they were going to adjust. It was so impressive and reassuring."
In March of this year, he reached the maintenance stage, which is considered the final stage of his treatment. During the maintenance stage, Grayson continues chemotherapy via oral medications and through his port that was placed at the very beginning of treatment.
Grayson's Children's Minnesota experience
For Grayson and Sandy, the staff at Children's Minnesota has become a critical support system from the beginning and throughout his treatment, especially during long-term stays.
"From music therapy and his nurses Jon and Hanna, to Dr. Yoav Messinger, who is the medical director of the hematology-oncology clinic.  I just cannot say enough about the staff," said Sandy. "It's as if we were their only patient and we mattered that much to them. I have to give a huge kudos to the entire staff."
Grayson also took a liking to a particular environmental services staff member on his floor, Victor.
"When we would stay in the hospital on the seventh floor, he really loved Victor," Sandy said. "He would come in to collect the garbage and clean, but always made sure to stop and say hi. Grayson would just light up every time he came through the door. And I remember thinking, 'What an amazing man who took his job a step further to make us feel comfortable.'"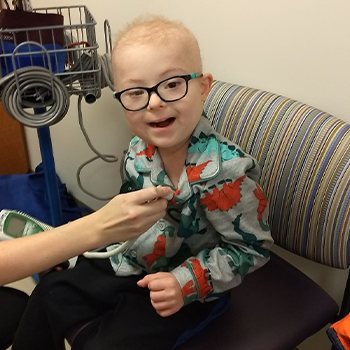 Grayson today
Grayson is 5 going on 6 this November.
"If you saw him today, you would have no idea he has leukemia," Sandy said. "His hair has grown back, he doesn't look sick and really looks like he did pre-diagnosis. You wouldn't know that he's taking chemotherapy medication every day."
And this summer has been particularly special. Due to the additional challenges of Down syndrome, Grayson was a late walker. He had learned how to walk in March 2019 and shortly thereafter was diagnosed with leukemia. He was then feeling so sick that he didn't walk, and this summer was the first time he has ever been able to run and play in the backyard of their home.
"I look out in the backyard sometimes and see him running up and down all over the place on his feet," said Sandy. "He's never done that before and he's five years old. I have a little boy all grown up!"
Kaitlyn Kamleiter