Freya learns to walk again through virtual care
Physical therapy through virtual care help patients makes progress miles away from the clinic
In her first four years of life, Freya has proven she is a fighter. Born at 27 weeks, she spent three months in a neonatal intensive care unit. At 2 years old, life gave her another challenge to overcome. A scan at a hospital in western Minnesota showed a tumor the size of a lemon in her brain. The family was sent to Children's Minnesota where a few days later, the family learned Freya's tumor was cancerous. She underwent emergency brain surgery to remove as much of the tumor as possible.
After surgery, Freya was up and happy and talking with the nurses. However, she suffered a seizure and was in a coma for two weeks. When she woke up, she couldn't swallow, talk or move. Freya would need to relearn everything. This is when the family first met Children's Minnesota physical therapist Lynn Tanner.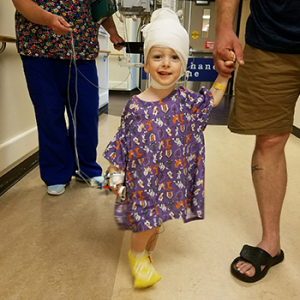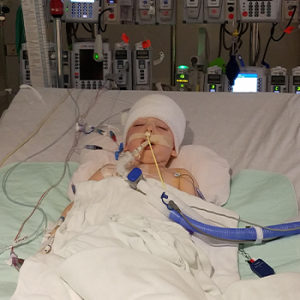 Physical therapy from a distance
Lynn was part of a team of physical, occupational and speech therapists who worked with Freya while she was in the hospital. Freya was able to go home in February 2020. Her mom Jessica tried to see therapists nearby, however the family lives three hours from the Twin Cities and Jessica found few options that fit Freya's needs.
Physical therapy using virtual care didn't seem possible to Lynn and her colleagues before the COVID-19 pandemic. But in March, when services had to be scaled back for two weeks due to the pandemic, Lynn and her colleagues used the time to develop standards of care for seeing patients virtually.
"For years, we have had patients, like Freya, that are 4 or 5 hours away that could benefit from weekly sessions, but can only come once a month," said Lynn. "Virtual care allows us to be with those patients weekly, in their home."
Achieving progress with virtual care
Jessica was excited when she found out Freya's sessions with Lynn could be done with virtual care: "Freya is always so excited to do physical therapy, she loves to play with Lynn."
Freya's sessions concentrate on getting her walking better. Jessica has been surprised at the progress her daughter has made working with Lynn over virtual care.
"It's awesome, she is doing so much better now," said Jessica. "During one session, Lynn was having her walk from the table to couch without help. All of the sudden she was walking all the way from the living room to her bedroom without help. We were super excited about that."
Virtual care has allowed Lynn to see inside a patient's home to understand the challenges they face in their every day lives. Parents have also been empowered to take a more hands-on role in virtual sessions since the therapist is not physically present.
Jessica plans to continue using virtual care for Freya's physical therapy sessions. With two young kids, she said it's not easy planning appointments if they have to drive a long distance.
Virtual care may not be a good fit for all physical therapy and rehabilitation patients. In-person visits are still an option if the virtual care visit wasn't a good fit.
Watch Freya's story on KARE11
Children's Minnesota Physical Medicine and Rehabilitation program
The pediatric physical medicine and rehabilitation team at Children's Minnesota knows that every child has unique needs as he or she grows up — and there may be obstacles along the way. Children's offers a wide range of pediatric physical medicine and rehabilitation services: